Meet some of our clients; interesting people of all ages from several different countries
Mike and Gail from New York: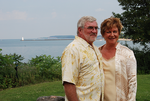 Gail and Mike live In Sodus Point, NY (near Rochester and on Lake Ontario) most of the year and have a winter home on Pine Island in Florida. They both lost their spouses to cancer several years ago, met in 2007 and married in July of 2008. Between them, they have 5 children and 11 grandchildren. They live in NY, NC and MD, so travel a lot. They're both water oriented, with power boating and sailing as major interests. for full bio and testimonial click here
Gary and Sabra from California: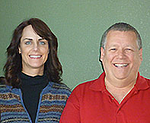 Gary and Sabra currently live on California's central coast where Gary is an Air Traffic Controller and Sabra is a Business Owner. Gary has spent the last 32 years working in the aviation industry. He has been a Flight Engineer, Aircraft Mechanic, and for the last 23 years, an Air Traffic Controller. Sabra currently owns and operates a successful e-commerce quilting fabric store retailing fabric to all parts of the world. She has worked in the insurance industry, at a nuclear power plant, and for a surgeon marketing surgical aids world-wide. for full bio and testimonial click here
Warren and Anita from Calgary:

Anita and Warren are from Calgary, AB, Canada and both work as pharmacists in a clinical pharmacy that they opened about 6 years ago. They read an article describing the investment potential in the southern pacific coast of Costa Rica. It sounded almost too good to be true so decided to take a "chill weekend" to find out for themselves. They've travelled to many places but never Costa Rica and were pleasantly surprised at how wonderful a place it turned out to be! for full bio and testimonial click here
Sorrel and Regina from California: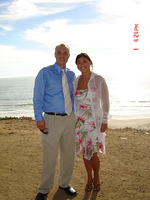 Sorrel and Regina have been together for 10 years. They were married last November. Regina is an academic adviser at the Art Institute of Sacramento. Sorrel sells and develops real estate in California. They were both raised in South Lake Tahoe and have lived in the Sacramento area for the last 8 years. They enjoy traveling, have been to many countries, and visited Costa Rica many times. They feel Costa Rica is a wonderful country and look forward to building a dream home there in the years to come. Their plan is to use the home as a vacation house for friends and family and they hope to eventually move there and live in the future.
Sean and Sandy from California:

Sean, 49, is an Electric Systems Operations Supervisor for a large California utility company. Sandy, 45, teaches nursing at the local community college after many years as an RN. They live in the town of Arroyo Grande on the Central California Coast with their daughter Samantha and a Yellow Lab named Rocky. They said "We enjoyed our time at the guest house so much that we would do the tour again just to be down there. Everyone involved with Pacific Lots and VDP was great. Steve, Patrick and Marcel are all very pleasant and straight forward knowledgeable guys." for full bio and testimonial click here
Mary and Roberta from Oregon:

Mary and Roberta were looking for more sunshine after living in rainy Oregon. They picked Costa Rica for the slower pace of life, the government subsidized health care, no army and the high literacy rate. Roberta grew up in the tropics of Sydney, Australia and Mary in New York. Mary is a bodyworker and physical therapist as well as glass artist. She loves to hike and swim. Roberta longs to get back to loud, colorful birds, swimming in warm beaches and eating fresh tropical fruits. She enjoys the outdoors, music and speaks Italian. They have 5 cats between them that they hope will make the journey with them.
Amy and Mike from Bahrain: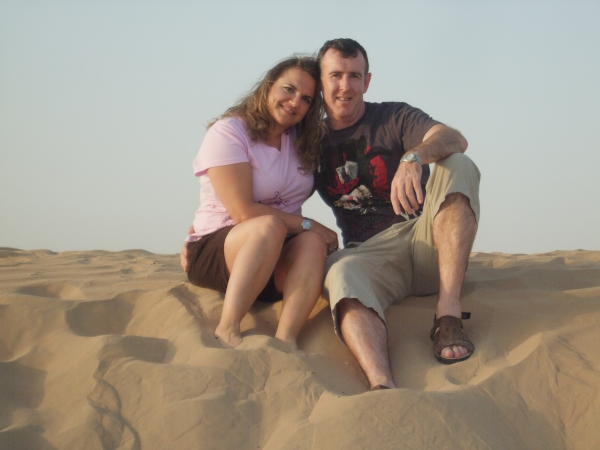 Amy and Mike currently live in Bahrain in the Middle East, where Mike is Director of a power company. They met at a rugby tournament in Dubai, United Arab Emirates. At the time Amy, a chiropractor from Canada, was Deputy Director Allied Health for a large private hospital in Saudi Arabia and Mike, who is English, was responsible for the commissioning of a power and desalination plant in UAE. for full bio and testimonial click here
Renee from Qatar:

Renee Pyburn is an American originally from New Orleans, La. and has been living and working in the Middle East and Thailand for the past 19 years. She is currently the Project Manager, Simulation for Sidra Medical and Research Center project in Doha, Qatar where she has lived for 4 years. Prior to that she worked in Saudi Arabia for 11 years and Kuwait for 2 years. She also studied gemology and jewelry design in Bangkok,Thailand for 2 years. for full bio and testimonial click here
Scott and Susan from New Jersey: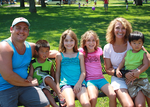 Scott and Susan are from a small, south Jersey town near the Atlantic Ocean. While they enjoy spending the summers at the beach with their four young children, they realized that the summer season was just too short. They were looking toward their retirement years and wanted a lower cost of living, a friendly culture, good healthcare, and MUCH more time at the beach. "Costa Rica and Pacific Lots was the answer we'd been looking for," says Scott. They purchased a great lot in Ojochal in Phase 10 and are excited to begin building soon. for full bio and testimonial click here
Erik and Laura from Colorado: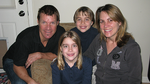 Erik and Laura first visited Costa Rica 13 years ago, and with their dog, Burgess, spent 3 months in a beach house on Playa Grande in the Pacific northwest. They have returned two other times, once with their children, and have always dreamed about what it would be like to leave the rat race and relocate. The couple and their eight year old twins Quinn and Ellie were looking for an adventure the likes of which are hard to find these days in the United States. They purchased a beautiful lot in Suenos del Tropico with an ocean view that renders them both speechless. for full bio and testimonial click here
Val from Russia:

Valeriy "Val" is from St. Peterburg, Russia (not the one in Florida). He came to Minnesota in 1995 and after getting his MBA in 1997 settled down in Minneapolis. He worked in different capacities (manager of Sam's, Oracle database Administrator), since 2003 as well as owned White Bear Heating and Air Conditioning LLP. Business was not going well so he began to do more interpreting work for hospitals, clinics and courts. for full bio and testimonial click here
Chayapat and Daniel from Alaska: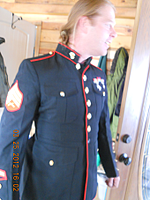 Daniel and Chayapat "Cha Cha" are in their mid 40's living in the coldest city in Alaska, Fairbanks, brrr.... Daniel's an Electrician and his wife is from Thailand. She runs a Thai Restaurant in the summer and enjoys the cold winters by the fireplace. They're looking to open the first Thai restaurant in the Ojochal area by the end of this year and if all goes well they'll be happy to reside there year round.
Jim and Mary Anne from Indiana:
Jim and Mary Anne are from a small Indiana town, Wabash, and for the past ten years they have owned a home on the Caribbean island of Montserrat. Unfortunately, the ongoing volcano eruption has led them to look at other opportunities for a retirement home and a place for their family to gather. They became acquainted with Costa Rica through other family members who visited it and loved it. for full bio and testimonial click here
Mark and Cindy from New York:

Mark and Cindy are physicians who practice together in Western New York. Mark's an orthopedic surgeon specializing in knee and hip replacement and Cindy is a Rehabilitation specialist. They have five children and have been married 16 years. They currently spend their free time skiing when the snow flies and enjoying their RV during the milder weather. They say "Suenos del Tropicos fits nicely into our future plans for a tropical retreat and fewer phone calls. We look forward to building a second home there for our family to enjoy."
Diane and Richard from New Hampshire:

Richard and Diane were born and raised in Massachusetts. Seven years ago they moved to Hollis, New Hampshire, to take advantage of a slower pace of life and less traffic. Approximately one year ago they made the decision that, upon retirement, they would like to live in a warmer climate and enjoy a more relaxed way of life. (Pura Vida, anyone?) for full bio and testimonial click here
Karen and Steve from Virginia:

Steve and Karen are from Charlottesville, Virginia. Steve's a sales rep of 25 years, for Emerson Electric. Karen is a Spanish teacher at her Alma mater, Charlottesville High School. Karen and Steve met at the University of Virginia. Steve is from Chicago and came to the University on a scholarship to play football. Karen was a manager of the football team. for full bio and testimonial click here
Karen and Don from New Hampshire: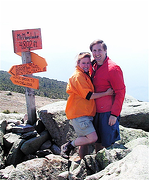 Don and Karen reside in Concord, New Hampshire, where Don manages a state environmental agency and Karen is a bookkeeper/accountant. About two years ago, they began looking for retirement locations they could use as a base to support their love to travel. Don and Karen wanted someplace near an international airport that would allow them hike, snorkel, kayak, watch wildlife, and dine at interesting restaurants. Dissuaded by the high cost of living in their favorite U.S. locations, they began investigating international opportunities. for full bio and testimonial click here
Chris and JoAnn from Virginia:

Jo Ann and Chris spent 6 years building and landscaping their dream stone house in the Shenandoah Valley, of Virginia in the United States. Prior to that, they each spent over 27 years working for Philip Morris in Richmond,Virginia. During that time Chris went to over 50 countries on business and pleasure, and Jo Ann has done her share of travel, too. Now, they spend their days maintaining their flower and vegetable gardens, ornamental trees and the rest of their property in the country. for full bio and testimonial click here
Jack from Arizona: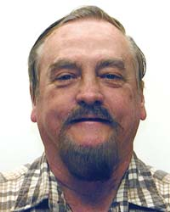 Jack was born in Philadelphia in '30s. He moved to West Virginia at age 2, and to Kerrville,Texasat age 8. His father was an x-ray Technician with the VA. He attended Tivy High School in Kerrville, graduating in 1948 then went to University of Texas, Austin, for BA, MA, and PhD. Between the masters and PhD, he was in the Air Force as a navigator, and spent over 2 years in the Canal Zone/Panama, in Air Rescue. He's a herpetologist (amphibians & reptiles), so was able to gather specimens and data for his PhD dissertation in Panama, then finish it in Austin after leaving the Air Force. His first job after his doctorate was in the Biology Dept. at the Univ of Florida, for 2 years (temporary, filling in for regular faculty there that were on sabbatical leave). Then to Univ Southwestern Louisiana in Lafayette(now called Univ. of Louisiana at Lafayette) for 4 years. He then got the opportunity for a faculty job at Arizona State University in Tempe. Jack accepted that job and retired after 40 years there. He's still an Emeritus Professor and keeps his office and computer & library privileges and continues to do his research with no other responsibilities. He's married, with 2 adult children (and 2 grandchildren), and one stepdaughter currently attending ASU.
Charles from Oregon:

Charles is from Beaverton, Oregon. He grew up in the small town of Roslyn in Central Washington State, better known as Cicely, Alaska to those who followed the TV series "Northern Exposure". After high school he ended up in Seattle working for the Boeing Co., and Honeywell Inc. He says "several years working in aerospace and marine systems for the Navy was diverse and interesting to say the least". At Boeing, he was part of the team working on the Lunar Orbitor project which orbited the moon and photographed landing sites for the following Apollo Program. At Honeywell, he became the Assembly Supervisor for the Mark-46 Torpedo program, then moved into a position of Plant Engineer. for full bio and testimonial click here
Bernie and Harsha from Nevada: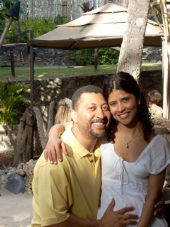 Bernie is from the Bahamas, Harsha grew up in India. We are both currently physicians in Las Vegas. We are very excited about our recent purchase in Costa Rica. We bought a 3 acre lot in Los Brisas. de Ojochal. Yeahhh!!!
Virgina and Kevan from Abu Dhabi:

Kevan and Virginia: I'm very excited about building a home in the Southern Zone at the development in Chontales, initially as a rental/vacation home and later as my retirement home. I have not lived full time in the US since my early twenties so have been an expat my entire working career. My current occupation is airline pilot and have lived in the Bahamas, Jamaica, Trinidad and currently in the United Arab Emirates where I am an Airbus 340 long haul captain flying to North America, Europe, Asia, Africa and Australia. Pura Vida from sandy Abu Dhabi, Kevan for full bio and testimonial click here
Dana and Theresa from Nevada:

Dana and Theresa currently live, work, and play in Las Vegas, Nevada after moving from Vermont in 2004. Every day can be like a vacation when you live in Vegas and they decided that Costa Rica would be a good investment opportunity and an area where they would like to escape for some slow-down time. They look forward to their future years with dreams of building a home at Suenos Del Tropicos to vacation and retire in. Their prize possessions are their cocker spaniels and their Harley-Davidsons, all of which they hope will come along for the ride! They thoroughly enjoyed their time while on the Discovery Tour and feel they have made some life-long friends that they will spend time with in Costa Rica. They are happy to join the Pacific Lots family!
Gary and Sandy from New Mexico: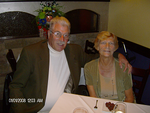 Gary spent 36 years in the area of Human Resources, 17 with Reynolds Metals Company and 19 with a brass company called Extruded Metals, both no longer in existence. He retired from Extruded Metals in December of 2003 and moved with his wife Sandy to Las Cruces, NM from Grand Rapids, MI. Sandy spent 26 years in software support with IBM, Amway and Foremost Insurance. She recently underwent numerous surgeries and has had both hips and knees replaced. They're expecting she'll be able to travel to Costa Ricawithout a wheelchair by the end of February and begin planning on building their home.
Cindy and Russ from California: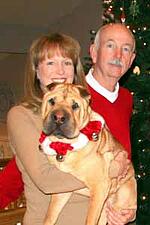 Russ and Cindy recently purchased a beautiful ocean view lot and are very excited about beginning the design process for their new home in Costa Rica. Russ is a civil engineer, and president of an engineering company in the San Francisco Bay Area. Cindy is a nurse, and the Stroke Program Coordinator for John Muir Health. Mazu is their beloved Chinese Shar-Pei, who watches over the house and Sugar the cat when they are at work. They are all looking forward to retirement from their jobs in the near future, and to making Costa Rica their home base for adventures in Central and South America. For full bio and testimonial click here.
Carolyn from Texas:

Carolyn grew up in the oil camps of Venezuela, so the Latin culture is something she knows and loves. She taught elementary school in Texas until retirement, and recently put that experience to use teaching ESL classes to adults. A second career of hers and a great interest along the way has been writing. From magazine articles in such publications as Caribbean Travel and Life and Texas Highways, she's now moving into writing non-fiction for middle grade children. She says "when my home on my gorgeous lot in Costa Rica is completed, it will be a perfect location to work on my writing projects." Her plan is to split her time between Ojochal and Houston. For full bio and testimonial click here.
Wende from Wisconsin:
Wende lives in Wisconsin and hates winter there. As she started to plan her retirement options she decided that having a home in a warm climate is definitely part of her plans. Having been to Costa Rica before (and loving the warm people and climate) she thought what better place to build a vacation/retirement home. It will be a couple of years before her home in Tropicos Verdes is built, but she can't wait to spend time there. She has a few years until retirement still, but plans to vacation there before retirement and spend a lot more time there afterwards. For full bio and testimonial click here.
Sheila and Bruce from British Columbia:

Bruce and Sheila live on the beautiful west coast of British Columbia, Canada. Bruce has been dreaming of living in the sun for the winters since he was 20 years old. He and Sheila have been married for 25 years and their kids are grown. They started traveling 4 years ago looking for the right place to live. Last winter they went to Costa Rica for 4 weeks, rented a car and traveled from the west coast to east coast to the volcano and met the friendliest and most helpful people in their travels. That's when they decided to buy some property. For full bio and testimonial click here.
Sheir from Ottawa: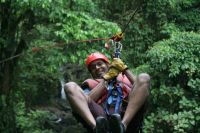 Sheir was born in Guyana, South America where he spent his first decade of life. Most people never guess South America or even Guyana when they first met him. His parents and little sister moved to Ottawa, Canada where he currently still lives. But not for too long as he bought a little slice of Costa Rica and is planning to build a nice house on it. Sheir loves to travel and going on adventures. His profession as a software developer has allowed him to fund his travels had has visited about 25 countries so far, which is only about 10% of the planet so he has a lot to more to traveling (exploration) in his future. For full bio and testimonial click here.
Craig and Sue from Massachusetts:

Craig is an Assistant Vice President with American International Group (AIG) in Boston having had various responsibilities over the last ten years. Susan is a pharmacist providing consulting services to several nursing home facilities in Southeastern, MA, Cape Cod and Nantucket. For full bio and testimonial click here.
Deb and Terry from Florida: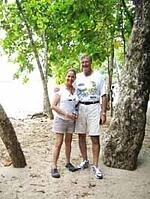 Deb is a R.N. and has worked in all areas of nursing including ICU, coronary care, cardiac cath and on and on. She has numerous interests including gardening, horseback riding, reading, socializing with friends and being outdoors. Terry has been living in Boca Raton and practicing as an emergency physician for the past 27 years. His hobbies have been varied. Most recently his obsession is with car racing, but he's also found other holes to throw his money into. He does love automobiles, but is realizing that perhaps he should find another hobby less tied up with fossil fuel. He's a golfer, skier, home handyman and raconteur of modest proportion. For full bio and testimonial click here.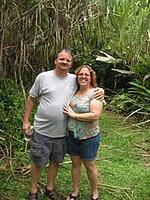 Dave and Jackie grew up in Western New York and were high school sweethearts marrying shortly after graduation. They currently reside in Florida and Dave owns his own business and Jackie is a teacher. They're "empty nesters" right now although the nest isn't always empty. For full bio and testimonial click here.
Claire and Tony from Florida: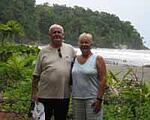 Claire and Tony were both born and educated in England, married in 1984 and lived in a 175 year old cottage in the heart of the countryside In 1986 Tony was offered a job in the USA, which he accepted and they moved to Maryland in September of that year. They became citizens in 2001. In 1993, they achieved "the American Dream" by buying the company Tony worked for! After 15 years, they decided it was time to sell and completed the sale in April this year. For full bio and testimonial click here.
Paul and Melissa from Pennsylvania: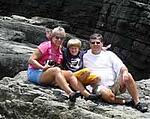 Paul has been in the insurance business for 31 years. His hobbies are golf, golf and more golf! Melissa was also in the insurance business for almost 20 yrs. When she had her son Drew she decided to stay at home with him. She's currently a substitute teacher. Melissa's hobbies are gardening, reading and golf. For full bio and testimonial click here.
Bettie and Jim from Massachusetts: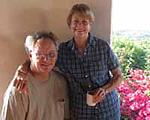 Bettie is a practicing RN who is closing down a 13 year private Geriatric Care Management practice. Jim recently retired after being a 20 year Building Commissioner for a town just west of Boston. He is also licensed as a Plumber and operated his own plumbing company prior to becoming the Commish. For full bio and testimonial click here.
Renee and Brad from Florida: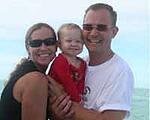 Brad and Renee reside in Key West, Florida with their two daughters. Brad is a Podiatrist. Renee is a nurse, boat captain, and a full time mom. Brad is an avid golfer and they both enjoy outside activities such as swimming, diving, sailing and fishing. For full bio and testimonial click here.
Bob and Michelle from Connecticut: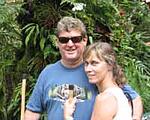 Bob works as a doctor in the insurance industry. He is an A level racquetball player, has enjoyed alpine skiing and skydiving. Michelle also works in the insurance industry. For full bio and testimonial click here.
Elmer and Shirley from British Columbia: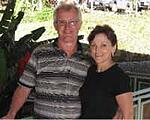 Elmer has worked as a professor and Academic Dean and is currently working in real estate in Kelowna, BC, Canada. Shirley's career has been in business ownership, then earned a Masters in Education, taught for some time and now teaches Reiki and dance. For full bio and testimonial click here.
Robert and Polly from North Carolina: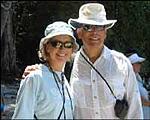 Robert and Polly sold their home in Raleigh, NC, three years ago, moved onto a new 46' sailboat, and became full-time cruisers exploring the eastern US coast from the Chesapeake to the Florida Keys and the Bahamas. Robert is a clinical pharmacist, published 2 pharmacy management textbooks, and has recently consulted to the health care and pharmaceutical industries. Polly was a health care consultant and partner in their consulting business, and real estate broker. For full bio and testimonial click here.
Cheryl from California:
Cheryl grew up in Los Angeles and Hollywood. She enjoyed a long career in the aerospace and defense industries performing administrative and HR job functions. In preparation for layoffs that never affected her she started to acquire rental properties and would frequently change residences to maximize cash flow. For full bio and testimonial click here.
Bob and Suk from Colorado: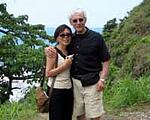 Although Bob is originally from Massachusetts and Suk hails from South Korea they've lived in Colorado Springs for over 25 years now. Bob has recently retired from private practice as a lawyer (but don't hold that against him. He really is a nice guy). Bob's interests include: a study of the great works of western civilization, with an emphasis on philosophy, Asian religious practice, Hiking, Black Belt, Tai Chi Chuan, Kung Fu, and Asian and Macrobiotic cooking. Suk is a champion mountain climber and prize winning artist. She left a job as manager in the computer division of the Korean Rail Company (the largest railroad system in Korea) to move to the US. She was trained as a hairstylist and teacher in Seoul, Paris and New York and recently sold her spa and salon which was located in the Hilton Hotel. Bob alleges that Suk proposed marriage in 2000. He, of course, accepted her proposal upon a promise to buy him a condo and maintain him in silk underwear. [Insert by Suk before mailing: My husband is crazy]. For full bio and testimonial click here.
Kevin and Jeanne from Florida: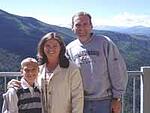 Kevin is originally from Connecticut and Jeanne grew up in Florida. They were married in New York City and lived there for three years. They opened and operated an indoor miniature golf course in Manhattan. In 1991, they sold their business and moved to St. Petersburg, Florida where Jeanne worked as a Trust Administrator and Kevin entered the insurance business. Jeanne eventually quit working to stay home with their son, Jackson, who is now 12 years old. Kevin is currently an Executive Vice President for American Strategic Insurance. For full bio and testimonial click here
Dick and Linda from Connecticut:
Both Dick and Linda grew up in the Jamestown/Chautauqua Lake area of NY. Linda taught elementary school for several years. Dick spent virtually all of his professional life at universities and institutions whose focus is scientific research. He retired early from Columbia University in 2002 having served as Assoc Dean of the Law School and then for as VP and then signed on at Memorial Sloan Kettering Cancer Center as VP for Development where he remains today. For full bio and testimonial click here
Phillip from Ontario:
Phillip is an Industrial Mechanic Millwright and Automatic Equipment Mechanic who has been employed for 20 yrs at Kodak Canada. He's also patent holder for a therapeutic light device and a Golf training device, http://theraled.com/, http://therapet.ca/ http://gripitrite.com/ and http://laser-grip.com/.
He lost his wife of 38 years this September to the ruthlessness of cancer; and is left with a wonderful son Ryan 28. Valoree and Phillip were within 6 months of retirement and had dreamed of other wonderful places in the world to enjoy.
Phillip said "Ryan and are about to keep the dream alive and thankfully have found Steve Linder of Pacific Lots; an authentic person who has helped to blaze a trail and set the stage over the last 2 decades. This makes it possible to become a part of a new community and help to build on this most wonderful theme of a more natural and healthy lifestyle. Ryan and I will take this opportunity to bring some enthusiasm and investment to the community; and, have already promoted Pacific Lots to all who will listen."