Mike and Amy from Bahrain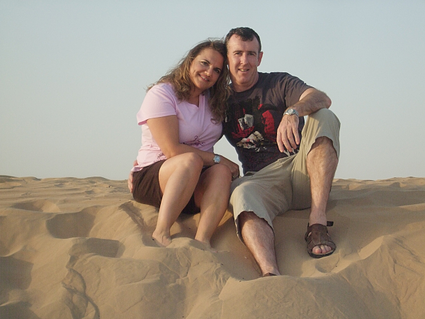 Amy and Mike currently live in Bahra in in the Middle East, where Mike is Director of a power company. They met at a rugby tournament in Dubai, United Arab Emirates. At the time Amy, a chiropractor from Canada, was Deputy Director Allied Health for a large private hospital in Saudi Arabia and Mike, who is English, was responsible for the commissioning of a power and desalination plant in UAE.
Amy has been researching Costa Rica as an investment and as a potential retirement prospect for a while and first visited in 2010. After reading about the investment potential and seeing Amy's pictures of beautiful beaches, mountains and lush rainforest, Mike too was convinced that this jewel of a country is a paradise to spend vacations and eventually retire to. To retire doesn't mean to slow down and with their interests in climbing, boating, scuba diving, surfing, horse riding, hiking and travel; Costa Rica suits them and their 3 children perfectly.
They visited Costa Ricatogether in April 2011 and fell in love with a plot in Suenos Del Tropico in Ojochal. "It has stunning panoramic views of the ocean and the mountains. We want to build a home here that captures those views and all the beauty of the natural surroundings; somewhere we can live inside and out!"