Luxury Vacation and Retirement Homes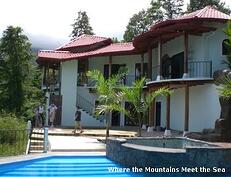 You are also welcome to build your own home. You also have no time limit to build. If you decide to use our custom building services, we work with you to design the home of your dreams. Whether you desire a trendy Santa Fe style home, a Mediterranean Villa, a Contemporary Design or a European Castle, our designers will make your dreams come alive. We offer construction services at $100 per square foot including architecture, engineering, construction, lights, fans and fixtures, etc. The choices are yours, if you can dream it, we'll build it. We're the largest developer and builder in the southern Pacific zone of Costa Rica. Since 1988 we've completed 19 phases of development totaling thousands of lots. We've built hundreds of custom homes for clients within our properties. We are now completing our newest phase of developments properties are still available and we have many more available in our newest phases, Suenos Del Tropico and Tropicos Verde including many with great ocean views..
Our services include site work, custom design services, engineering and architectural work, complete building services, interior decorating and swimming pool design/build, rental and property management, title insurance, relocation assistance, incorporation and citizenship assistance and landscape services. We design and build both commercial and residential properties. Our firm is debt free with tens of millions of dollars in assets and we are the largest land owner and employer in the area. We currently employ over 400 full time employees and the number continues to grow.
Our team of architects, engineers, concrete masons, master wood craftsmen, painters and interior designers can help you build the house of your dreams. We have our own 10,000 sq/ft wood shop to manufacture top notch custom cabinetry, doors and windows, furniture and fixtures to add individuality and exclusivity to your custom home. Every home we build is designed to the individual tastes of our customers. We work with you every step of the way, to design a home to maximize the feel of elegance in nature, providing ultra modern amenities in a totally tranquil location.