The Costa Ballena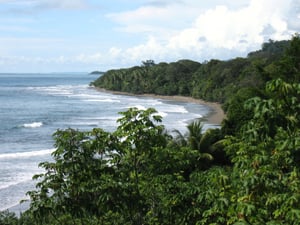 There's an area along the southern Pacific coast of Costa Rica known as the Costa Ballena. Ballena means "whale" in Spanish and this area is the mating area of the humpback whales seasonally from December to April. The humpback whales from the southern hemisphere mate with those from the northern hemisphere right offshore in the area. This area is also home to a number of well known beaches in Costa Rica and noted for the large enclave of north American and foreign baby boomers, retirees and expats living in the area. There are a number of high end hotels and restaurants and the region is also home to the Marine National Park Playa Ballena. The largest mountains skirting the coast happen along this stretch of shoreline making for dramatic opportunities for those looking for amazing views. Travel and Leisure Magazine had a feature article in 2013 citing the Costa Ballena as one of the top 2 destinations to visit in 2013. Let's look at this area in more detail.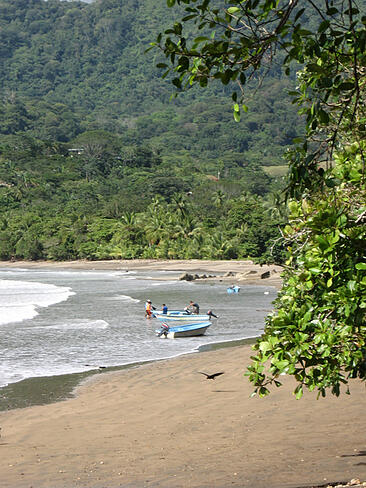 The Beaches: Beaches along the Costa Ballena heading south include Playa Dominical, Playa Dominicalito, Playa Hermosa, Playa Ballena, Playa Pinuela, Playa Ventana and Playa Tortuga. Playa Dominical is a bit rocky and debris covered due to the flotsam and jetsam carried down river exiting just north of the beach in Dominical. The beach is a bohemian hotspot noted for great surf and one of the few beaches in Costa Rica to have lifeguards. Further south Dominicalito beach is a nice beach in a sheltered cove and typically gentle for swimming. Again a rock bottom at parts of the beach make it a bit tough to walk the water, with an occasional stone to step on. Further south you come to Dominicalito cove by La Parcela restaurant. This beach is home to the local fishing fleet based out of Dominicalito and most local commercial fresh seafood is landed here. A bit further south is Playa Hermosa, a locals favorite, with palm lined parking right off the highway, a decent surf but okay for swimming as well. There's usually a few vendors selling food, ceviche and drinks and the beach can get busy on the weekends. Playa Uvita is accessed through the town of Uvita and is part of the Playa Ballena Marine National Park. An entrance fee is charged to access this beach in Uvita and this entrance is close to the location of the famous "whales tail". The whales tail is a spit of sand where a northern current meets a southern current and had formed the sand into a large formation that looks just like a whales tail from the air. It is quite large and worth a visit.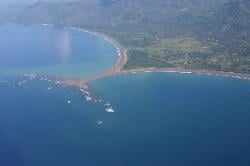 Marine National Park Playa Ballena: Further south you come to the main entrance to Playa Ballena and the official entrance to the Marine National Park, Playa Ballena. This park was formed in 1990 and encompasses 270 acres of beach front and 13,305 acres of marine sanctuary stretching about 9 miles offshore. The beach is lined with coconut palms and those wanting to plant coconuts on their property need only visit the beach to find hundreds of sprouting coconuts that need only be brought home and lightly planted. It is also common to see Howler Monkeys, White Faced Capuchin Monkeys, Toucans, Macaws and Parrots enjoying the beach and surrounding area since much of the beach supports tropical almond trees that also sprout and are easily planted. The park stretches from the southern end of Playa Hermosa north of Uvita to the northern end of Playa Pinuela to the south. There is a ranger station and basic bathroom facilities at the main entrance to the park along the Costanera highway. Admission is charged since this is a national park at both the main entrance and as previously noted, at the entrance at Playa Uvita where the whale's tail is located.
Snorkeling and Diving: The park also fronts the largest coral reef in Central America, spread in a reef line about 1000 meters offshore along a small chain of islands known as the "Tres Hermanas" or three sisters. The three sisters islands flank Ballena island to form the reef. There's great snorkeling out there but it's a bit far offshore although easily accessible in a kayak or stand up paddle board. Be sure to bring an anchor for your vessel. Further off shore Cano island is also a dive hot spot and there are two dive charter companies located in Ojochal that offer trips to Cano Island.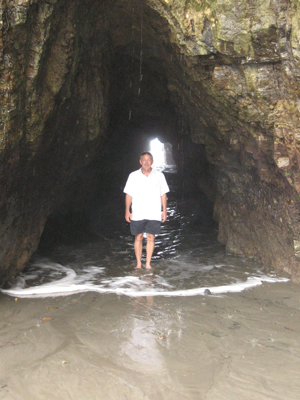 Playa Ventana: Playa Ventanas is located just south of Uvita as you approach the town of Ojochal. This beach is unique in that there are caves eroded into the hills flanking the beach that one can walk through to the ocean at low tide but that are completely full of ocean water at high tide. The beach also has a nice crescent cove providing sheltered water for great swimming for children. The access to the beach is a bit challenging and again this beach can be crowded on the weekends.
Playa Pinuela and Playa Tortuga also front the Costa Ballena. I like Playa Pinuela as a good swimming beach. Playa Tortuga, located on the right just after the entrance to Ojochal, is at the mouth of the Terraba River. The Terraba River is the longest navigable river in Costa Rica and tends to bring lots of flotsam and jetsam down to the beach. It is a unique place to swim, plenty of driftwood and the option of swimming in salt water on the right side of the beach and rinsing in fresh water on the left side of the beach before heading home. Some folks find the beach less appealing since it can often be covered with driftwood but I like it. It's also a great place to fish, the river mouth houses lots of red snapper, cubera, dorado, snook and other reef and game fish. The road can require four wheel drive at times during rainy periods as it often floods.
Rip Currents: You should be aware that surf beaches on the Pacific coast are sometimes frequented by rip currents, especially during periods of high surf and high tide. Rip currents can move up and down a beach and can often be seen as coffee colored water or "rips" being drawn out to sea. Be careful when swimming in high surf, staying aware of the dangers of rip currents. If caught in a rip current, swim parallel to the beach and away from the rip current and exit the water elsewhere. Don't try to swim in against a rip current, it will simply tire you out. I tell people unfamiliar with rip currents not to go over their lower chest while swimming and to keep their feet under them at all times. Sure you can body surf toward the shore but stay standing and "feel" for the outward current and avoid swimming, instead just stand. Tell others if you suspect that there may be rip currents, drowning is the number one cause of death to tourists in Costa Rica. Stay in shallower water, enjoy the beach but stay and play safe.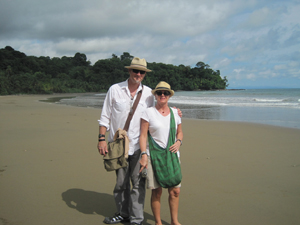 Large International Community: The Costa Ballena is most noted for the large international community residing there. There are many north American retirees and baby boomers as well as large European population. There are great hotels and the largest concentration of international restaurants in all of Costa Rica. The area around Ojochal is home to nearly 30 bars and restaurants including 2 French bakeries, a few Italian and pizza parlors, Thai, Mexican, Argentine steaks, French, German, Indonesian, Indian, Cuisine of the world and local fare. The local expat enclave has also created a large market for organic foods, great spices, organic dairy products, free range chicken, grass fed beef and fresh local seafood. There are a number of farmers markets and local produce stands and some of the best ingredients are available along this stretch of the southern coast. It is also home to Pacific Lots and homes of Costa Rica, the largest international residential community for foreigners in the country.
Images from the Costa Ballena
Here are some images from the Costa Ballena Area of Costa Rica