Gary and Sabra from California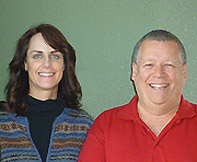 Gary and Sabra currently live on California's central coast where Gary is an Air Traffic Controller and Sabra is a Business Owner. Gary has spent the last 32 years working in the aviation industry. He has been a Flight Engineer, Aircraft Mechanic, and for the last 23 years, an Air Traffic Controller.
Sabra currently owns and operates a successful e-commerce quilting fabric store retailing fabric to all parts of the world. She has worked in the insurance industry, at a nuclear power plant, and for a surgeon marketing surgical aids world-wide.
Gary and Sabra also own several investment properties within the U.S. They first considered Costa Rica for its investment potential; however, when they visited, they decided this would be the perfect place to retire. They fell in love with the slower pace of life, tropical environment, animal and plant life, friendly people, and beautiful views, and are looking forward to embracing a new culture and way of life.
They have three beautiful daughters, and when the youngest graduates high school in 6 more years, they plan to relocate to their new lot in phase 9 in Ojochal. Until then, they plan to visit at least once a year for rest and relaxation. Pura Vida!