Mike and Gail from New York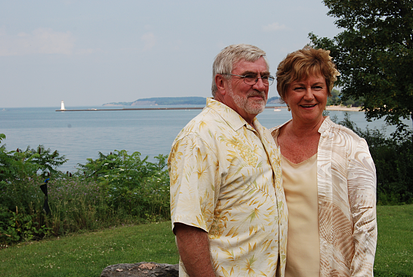 Gail and Mike live In Sodus Point, NY (near Rochester and on Lake Ontario) most of the year and have a winter home on Pine Island in Florida. They both lost our spouses to cancer several years ago, met in 2007 and married in July of 2008. Between them, they have 5 children and 11 grandchildren. They live in NY, NC and MD, so travel a lot. They're both water oriented, with power boating and sailing as major interests.
Mike is a retired Eastman Kodak manager, with a career focused largely on R&D and manufacturing. He has been Mayor of the Village of Sodus Point for 9 years, which prevents retirement boredom. Hobbies are grandchildren, gardening, reading and boating.
Gail has two businesses. She designs and makes one of a kind pins/pendants and necklaces from antique and costume jewelry. Her company is Jewelry by GEM and can be found on the internet. She is also a distributor For Shaklee Products, which is California based. Her hobbies include sailing, home decorating, web surfing, and especially, spending time with grandchildren
They say "Our intent is to build two homes on adjacent lots, to accommodate both families, in Suenos Del Tropico as soon as we can get the process started. These will replace our FL home, and we would expect to spend approximately 6 months each year in Costa Rica as Mike relinquishes his Mayoral duties in 2013. We are trying to learn Spanish, but that is not easy at our age. Both of us really look forward to this new adventure."