10 Day Tour Itinerary - Costa Rica Country Tour
10 Day Country Tour Itinerary
The tour dates are May 12 - 21, 2023.
This is a great way to see a variety of areas in Costa Rica as a tourist and spend a bit of time as we travel to see some living options and see some areas not normally seen on standard tours. The tour is 95% about pure tourism with about 5% on the idea of retiring or investing in Costa Rica. All hotels, meals, transportation within Costa Rica, activity fees, and airport pickup and drop off are included. All tour fees, trips and entrance fees to national parks are also included. The itinerary is subject to change based on hotel availability or other factors such as days that particular national parks are closed, etc. but this is pretty close to the itinerary we will follow. All meals are included and we eat well. I've had past tour clients call this a culinary tour of Costa Rica. Adult beverages are not included but are available. We do often mix the order of the tour, depending on hotel availability, but this is a good description. Our tour is a bit physically demanding so please be in reasonable physical shape.
You fly into San Jose (SJO airport code). The cost of the tour is $3400 per couple (double occupancy) or $2400 per single (single occupancy). (before any discounts) This fee is pretty all-inclusive, other than tips you might want to leave at hotels and a tip for the driver/guide. This tour shows some of the reasons why Costa Rica is such a popular destination, visiting many noted sites and attractions in Costa Rica. We travel in a luxury Mercedes van and limit the number of people on the tour to 13. We'll visit Manuel Antonio national park (the most popular park in Costa Rica), see volcanos, take a river cruise, hike in the rain forest, see numerous waterfalls and even get a chance to swim in one, visit a cloud forest, visit the oldest coffee plantation in Costa Rica and see a few properties along the way. Again the tour is about tourism but we do see a few properties for sale along the way, since some of you want to know about retirement or investment options in Costa Rica.
If you want to join us after reading the details below, please submit your tour application via the link toward the end of this email. You need no immunizations for Costa Rica or Panama and no Covid test is required to enter either country but you do need to be fully vaccinated to enter Panama. Your return to the US does not require a Covid19 test.
Day 1: You will be picked up at the airport and brought to the Hotel Martino where you can relax before we head off on our adventure www.HotelMartino.com. The Hotel has a gym, pool, spa, walking trails, restaurant and more. If you arrive earlier in the day there is a great bird zoo across the street. We will have a welcome cocktail party at 6:30 pm at the hotel that night. Dinner is on your own today but it's the only meal you'll have to pay for.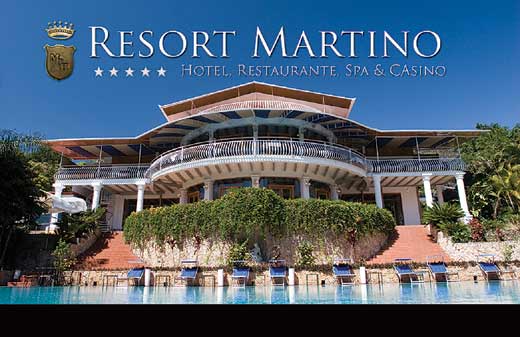 Day 2: Trip to the beautiful La Paz Waterfall Gardens, visiting an huge bird aviary, a butterfly farm, a hummingbird garden, serpentarium, wildcat exhibit and a hike through nicely laid trails and stairs touring 5 amazing waterfalls, including a nice buffet lunch. We'll also visit the Doka Estates Coffee Plantation. We'll stop at a supermarket after touring today so anyone can purchase snacks, water, wine, ATM, etc. for their personal use during the rest of the tour. We will be eating dinner tonight in La Fortuna, at a very popular typical Costa Rican restaurant with great food. We spend the second night at the Arenal Observatory lodge (based on availability).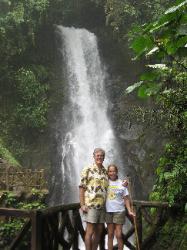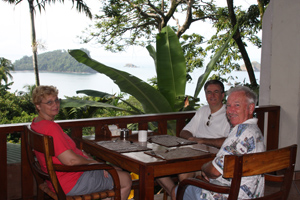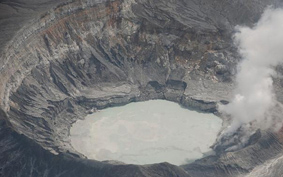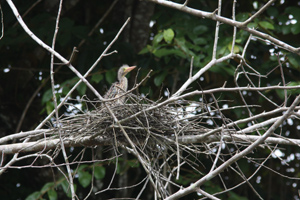 Day 3: We head to Monteverde, visit the hanging bridges later in the day. We are still working on a confirmation for lodging on day three, with a few choices but not confirmed yet. We usually do a night jungle tour.
Day 4: We visiting the Bosque de los Ninos, the cloud forest of the children. We'll be leaving for Manuel Antonio later that day, to visit Costa Rica's most beautiful park, Manuel Antonio National Park and staying at Costa Verde Hotel in great ocean view rooms. We'll also likely see monkeys, sloths, toucans and more. We are staying at one of my favorite hotels in Costa Rica. www.CostaVerde.com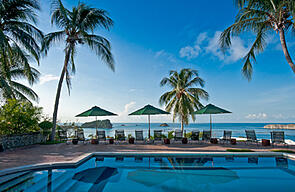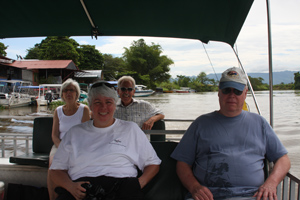 Day 5 and 6: Driving to the town of Dominical where we will stay for two nights at the Villas Rio Mar hotel. We may swim in the Paz Azul Waterfall that day and we will take a zip line tour (optional expense) on the morning of Day 5. We'll eat lunch at Ricar2 and dinner at El Fuego brewery. We'll visit the large outdoor crafts market and see the surfers at Dominical beach. We'll have plenty to do in this area and time to relax in their excellent pool, in time for happy hour.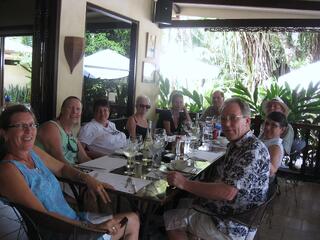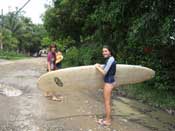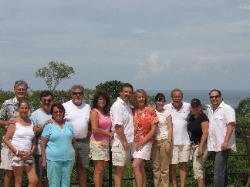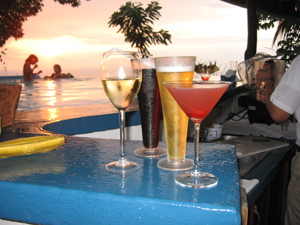 Day 7: We'll passing Ojochal and as we pass by, I'll point out why it is one of the most popular retirement towns. We'll also visit the famous local beach, playa Ventanas, with the ocean caves.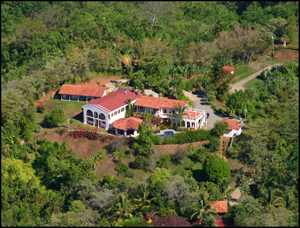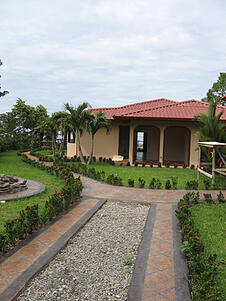 Day 8: We'll lunch on the Cerro de la Muerte, one of the highest mountain passes in Costa Rica, visit a flower market, a candy shop with typical Costa Rica sweets and we typically visit the Cachi hydroelectric dam and see one of the best views in the Orosi Valley. This area is not typically visited on expat tours but is a beautiful place and worth visiting. We'll also visit the oldest church in Costa Rica as well as the Basilica de Nuestra Senora in Cartago on the way by. We stay at the Barcelo Palacio hotel in San Jose.
Day 9: We'll tour around the central valley of San Jose, visit the Central Market, the Mercado Municipal de Artesenas (Artists Market), visit the famed National Theatre and walk one of the pedestrian friendly walking streets. As we tour through the Central Valley, we, point out highlights in places like Alajuela, Heredia and Atenas. We're one more night at the Hotel Barcelo.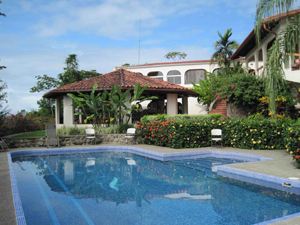 Day 10: The tour is complete but do note that breakfast is included that day as well as airport transportation. Guests are welcome to enjoy the hotel facilities and can also taxi into San Jose if they have a flight later in the day. The Barcelo hotel offers luggage storage if you plan to return after check out time. Airport shuttle service is provided. if you want to stay longer, we can offer our tour operator hotel rate to you.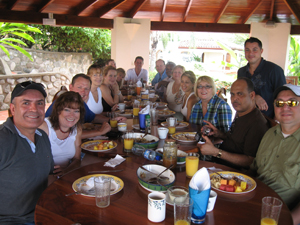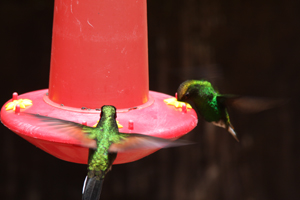 *hotels and itinerary subject to change, based on availability.