Real Estate in Costa Rica, Top Places to Live, Best Place to Live
First a quick look at Real Estate en (in) Costa Rica:
Pura Vida. It's the catchphrase that's come to symbolize the desire to enjoy the best lifestyle possible…simple, relaxed, and in tune with your surroundings. What makes Costa Rica one of the top places to live?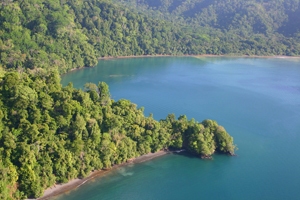 Costa Rica has been called "the Jewel of Central America" and considered a top location in eco-tourism. This peaceful and prosperous nation has nearly 27% of its territory in designated protected areas, national parks and reserves. Costa Rica is often considered one of the best places to live.
Natural wonders abound on its unspoiled beaches, rain forests, mountains and rivers. With an average temperature of between 71 and 81 degrees year round and 10 degrees above the equator, it is tropical and sub tropical. Emphasis on the environment makes Costa Rica the envy of many developed nations. Quality of life is rated as one of the highest in the western hemisphere. Astounding beauty, pure air and clean drinking water, abundant hydro electric energy and a stable democratic society all contribute to the high ranks of this tiny nation, by international travelers.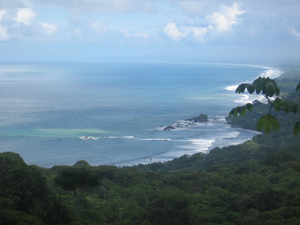 The government's encouragement toward foreign investment and the right to own property by foreigners has done much to put Costa Rica in the spotlight internationally. Baby Boomers looking for quality of life, affordable health care, a welcoming people, a relaxed life style and healthy living are quickly discovering this gem. With two modern international airports and a third on the way, travelers can find convenient direct flights from many major gateway cities.
Covering only 19,560 square miles (50,900 square kilometers), an area about the size of West Virginia, Costa Rica contains an astonishing quantity of plant and animal life - about five percent of all known species on Earth. Its resident plants include more than 800 ferns, 1,000 orchids and 2,000 kinds of trees. Among its 200 animal species are jaguars, sloths, scarlet macaws, toucans, monkeys and the extravagantly plumed quetzal bird. An hour's journey from the capital of San José would take a traveler through a dizzying array of ecosystems
Costa Rica's national constitution guarantees the right to own property to anyone, with foreign nationals enjoying the same rights as Costa Ricans. Land can be owned outright with a deed, allowing the owner to sell or pass it along to their heirs. Homes, living expenses, insurance and property taxes are all significantly lower than in most developed countries and the average per capita income in Costa Rica is just over $10,000 US.. Owning property in Costa Rica is a great way to diversify your retirement investments by holding international real estate.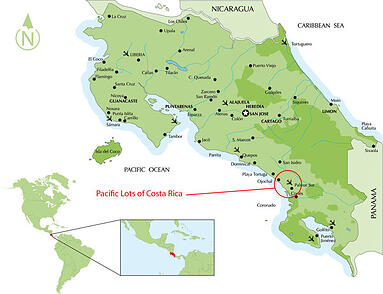 Legally most property owned in Costa Rica is deeded and fee simple. The exception is property within the first 200 meters of the coast, the maritime concession area. Property within the maritime zone is leased with ownership being retained by the government. Most people own property in Costa Rica in a corporate form. Since there is no capital gains on corporate earnings, future sale of that property will not incur local tax liability. Properties are registered to the corporation and the owner holds the shares of the corporation. Upon the sale, the owner merely transfers the shares of the property to the new owner. The property is an asset of the corporation. Owning property in a corporate form in Costa Rica also gives the owner additional rights not available when held individually.
This brings us to one of the primary advantages of life in Costa Rica – the climate, the landscape, the lower cost of living, the very low tax on property, the very low cost of healthcare, beaches, sunshine, moderate average temperatures, few problematic weather conditions, and several dramatically different regions make it a place where anyone can find the perfect locale. With no military and very friendly people, Costa Rica ranks as home to some of the happiest people on the planet. Tourism is the number one source of income in Costa Rica, but high tech and the presence of many foreign multinationals gives Costa Rica a very healthy and growing economy.
The major areas of interest to expats have been the central valley of San Jose, the Guanacaste coast in the northern Pacific, the area around Lake Arenal and Arenal volcano in the central northern region, the central Pacific region and the southern Pacific coastal region.
Properties available in Costa Rica range from modest homes costing less than 100,000 US to multi-million dollar homes in the hillsides overlooking the ocean. The view from the property typically has more to do with price than the size of the home or parcel, though size matters as well. With four mountain ranges in Costa Rica with peaks over 11,000 feet, the mountain views and ocean views can be quite spectacular. Condos can be purchased in the central valley area around San Jose for under $100k and single family homes are available from the mid $100's on up. Ocean view homes and condos in the northern region run from $400k to multi millions. Prices vary dramatically depending on what part of the country you are interested in, which I will discuss below.
Early adopters into Costa Rica settled in the central valley around San Jose, the capital city. Year round spring like temperatures and low cost of living were the draw. Today there is less interest in the central valley area since the area has become very congested, though a lot of expats remain. Traffic in this area is quite unbearable and petty crime has been on the increase. Expats have since moved further out of downtown, to towns like Heredia, Escazu and Santa Ana that are fairly close to the city or to Alejuela, Grecia and San Ramon a bit further out.
The second wave brought expats to Guanacaste. This was the most accessible area at the time and the opening of a 2nd international airport in 2002 close to the northern Pacific coast (in the town of Liberia) set the stage for a frenzy of international investment. This region along the northern Nicoya Peninsula is a dry tundra and lacks the lush tropical feel found further south but the region flourished none the less. In 2016 over 1,000,000 people arrived at Liberia airport to explore the Guanacaste region. The area is now home to an abundance of large high rise towers, all inclusive resorts, condos and hotels. Real estate in this region is now quite price prohibitive, price wise. Single family home prices typically top a million dollars US and condos are selling at $2000 to $4000 per square meter.
Lake Arenal region and La Fortuna town. A large contingent of expats, initially mostly from northern Europe, set up expat communities by lake Arenal. The area is higher elevation and the cool mountain temperatures are quite agreeable. Major development has been slow in this area, partly tempered by the giant looming Arenal volcano, one of the world's most active. Prices are quite inexpensive and the area has attracted budget minded expats and retirees.
The Central Pacific region around Jaco boomed in the mid 2000's when the real estate market in the states was booming. A number of condo projects and high rises were built but the market softened before the inventory was purchased and many of the projects have since been abandoned. Jaco is a surf town and famous for drugs and prostitution, the latter being legal in Costa Rica. This inventory is now priced in the $200 to $450k range but the area is less desirable than other parts of the country due to the shady reputation and activities.
The Caribbean coast of Costa Rica has not seen much in the way of development though there are some small expat communities. There's a "rasta" feel in this region, having been settled by islanders from places like Jamaica and the Cayman Islands. The area is lowland mangroves and although there are some beautiful beaches in the area, it is referred to as the "mosquito coast". It is also plagued by lowland flooding and hot and humid temperatures
The new hotspot on the radar is Costa Rica's Southern Pacific coastal area, home to the country's most pristine and spell-binding scenery. Two new highways opened in 2010, cutting travel time to the region and making it more accessible. This area now has a variety of projects, mostly gated developments with prices ranging from $150k for single family homes to a few million dollar plus properties. Cloud-ringed mountain peaks, covered in emerald-green rainforest, drop dramatically to sweeping sandy beaches. Crashing waterfalls tumble down the mountain slopes. Roads have crossings for tapirs and monkeys…beaches have look-out points for whales and dolphins…and you can breakfast alfresco in the company of toucans, tiny jewel-bright hummingbirds, and palm-sized blue butterflies.
And there's not a high-rise condo tower or all-inclusive resort in sight…
It sounds exactly like the kind of place that should attract swarms of property buyers. But it hasn't…until now. That's because it was tough getting here. The coastal highway was in bad shape. But the upgraded, re-surfaced coastal highway opened a year ago, cutting the drive time from Costa Rica's capital, San Jose, to 3.5 hours. It's now a quick, easy and comfortable drive. Better yet, plans call for an international airport here. And we know what that can do for property prices…
Our Shameless Plug:
Right now, $40,000 buys you a lot in the South Pacific, in the most established community, Pacific Lots. In its 27th year, this growing community has attracted Americans, Canadians, Europeans, Asians, and Costa Ricans. The development is set against a stunning mountain backdrop, with expansive ocean views.
You can take advantage of this unspoiled setting. You can go sport fishing...zip lining...sea kayaking ...swim, surf or snorkel in the warm tropical waters...trek through the rainforest...bird watch...or try white water rafting.
You can enjoy this hidden corner of Costa Rica, without sacrificing home comforts or little luxuries. You can get Internet and phone service, and satellite TV. You can pick up warm French baguettes, or linger over an espresso and pastry at the coffee shop...buy Cuban cigars, Swiss chocolate, imported cheese, and champagne at the delicatessen...and enjoy Indonesian, organic, French or Italian food in the local restaurants.
But the area is still emerging. Roads are all gravel once off the main highway but the area is developing quickly. The main road in Ojochal was paved in 2017. The newest hospital in Costa Rica just opened in the region.
Pacific Lots offers lots with mountain views from $40,000…and lots with killer ocean views from $100,000. There are no time limits to build. You can either build your own home, or the developer can build for you. Luxury custom construction runs around $110 a square foot.
Come and see for yourself, on a Pacific Lots Discovery Tour. These four-day, three-night trips for just $299 will let you try out the Pura Vida lifestyle, and see if it fits. If you do purchase from us, we'll give you a $1000 travel credit off the price of the lot. Just book your flight to San Jose, and we'll take care of the rest…accommodations, meals, and transport. You can check out our community…built homes, and those under construction…see the little villages and beaches close by…immerse yourself in this gorgeous eco-wonderland…and decide if it's right for you. GO HERE NOW TO FIND OUT MORE/RESERVE.