Costa Rica remains a top vacation, retirement and investment destination. Read on to learn why. We've learned so much running our tours in Costa Rica, we continue to add more tourism destinations. We now offers tours of Cuba, Mexico, Panama, and now with Colombia added to the list. We are working on a tour to Guatemala and a tour to Marrakech, Morocco, watch for more details.
https://www.pacificlots.com/tours check this link for testimonials from our tour guests.
Tours for Baby Boomers on offer:
Want a tour that's not an adrenalin tour, but not a old fogey tour either?
You need to be mobile to join our tours, no walkers, no canes, no issues....
8 Day Discovery tour of Cuba - June 10 - 17, 2023 Sold Out
10 Day Costa Rica to Panama Tour - August 11 - August 20, 2023
Sign up Here

8 Day Discovery Tour of Cuba - Scheduled for September 10 - 17
8 Day Discovery Tour to Medellin, Colombia - Sign up here
Scheduled November 12 - 19
9 Day Marrakech, Morocco Tour - Scheduled for December 2 - 10
See details here (coming soon)
8 Day Mexican Riviera Maya Tour - Scheduled for November 19 - 26
See details here (coming soon)
8 Day Guatemala tour, January 6 - 13
See details here (coming soon)
Our most popular 4 day Costa Rica Property tour offered 2 to 3 times per month


June 7 - 10
June 21 - 24
July 12 - 15
July 26 - 29
August 9 - 12
September 6 - 9

New 8 day tour to Medellin, Colombia offered November 12 - 19, is now open for booking. This tour will visit the highlights of Medellin and Guatape'. We will be traveling in a tour van and staying in nice hotels. The tour includes all meals, all lodging, and all in country activities. It does not include alcoholic beverages.

See the sidebar below for more information and to sign up
You can't control where you where you were born but you can control where you live. Do you live somewhere cold or unpleasant for part of the year and are considering owning a second home or just moving somewhere new. Maybe you're ready to retire and looking for an ideal destination. Fact: owning a home in a vacation destination, instead of in a traditional community is a smart way to be able to earn money from your home when you are not using it. We travel for free simply by renting out our home when we're not using it. We've designated owner lock out closets to put our stuff in when our properties are rented out. Now every few years we've been able to buy additional properties with the money we're making from our rentals, something we would never have been able to do if we'd bought a traditional home. Don't think you can't continue to earn lots of money in retirement, you've built a lifetime of equity, now you can put it to work.
How'd we do it? First of all, we never sold our primary home. Instead we took an equity line of credit and used it to buy a few smaller properties in areas of high demand, condos with rental management programs in vacation destinations where there are good rental management companies. We rent our condos short term using craigslist, Airbnb and VRBO, using rental management companies to do the work. We also rent out our primary home long term. We enjoy the benefits of lots of rental income instead of having spent all our money on a home in a typical retirement community, most of which have zero rental appeal. Important - buy good properties in areas of high tourist interest.
So how can you learn more? We've scheduled a bunch of new 4 day property tours. Our all inclusive property tours of our developments in Costa Rica are just $299 per person. See the list of tour dates on the left sidebar just below the main menu (cursor down a bit). Come see why Costa Rica continues to top the list of recommended destinations for North Americans looking to move out of the US or Canada. Best of all, your property is easy to rent and occupancy rates have been higher than ever. We just did investigative tours to Argentina, Uruguay and Colombia, see our latest newsletter for more about what we found. Steve also wrote about how currency devaluations can make vacationing cheap while potentially making property purchases much more expensive. You can see our latest newsletter here.
North Americans can again travel pretty freely without proof of a Covid19 vaccine or test. We don't need a Covid19 test to return to the US or Canada, so now is a great time to get out there and find your nirvana. Read on to learn more about why anyone would want to own property in Costa Rica or Mexico.
As always, we are offering our 4 day property tours of Costa Rica. These tours are a great way to test the waters on living, retiring, owning a rental property, or just owning raw land as a hedge against inflation. See the left sidebar for our 4 day Costa Rica tour dates as well as how to sign up. Our 4 day all-inclusive tours are just $299 per person and super fun.
We've recently added a 4 day chill weekend property tour to the Riviera Maya of Mexico, to tour developments in Playa Del Carmen, Tulum, or Merida. The cost is $399 per person or couple and includes 3 nights lodging, transport from the airport, and one lunch. You'll get a chance to visit properties build by the developer, as well as staying in one of the condos they've built. You'll see currently completed units available for immediate sale and see pre construction offerings as well. We work with one of the largest developers in the area, with a proven track record of results and strong ROI for their clients, from rental income. Click here for more information about our offerings in the Mexican Riviera.
There are currently have no vaccine or Covid19 test requirements for any of our tours, nor to return to the US after leaving the country.
Please take a moment and watch this Slide Show updated 2022,
Costa Rica - Since Covid19, Costa Rica has seen an increase in people wanting to find a less crowded, less politically charged place to call home. For some it was merely the desire to find a way to retire sooner, live a higher quality of life with less stress. For others it was a way to cut their cost of living and learn to relax. Pent up demand for travel has created a travel boom. Whether you are looking for a better quality of life, a vacation home, a rental property that provides great returns, a more affordable retirement or to move assets offshore, Costa Rica is a wonderful, safe and stable place to do so. I encourage you to spend some time here, look at our pictures and imagine living somewhere new. As one of the safest most stable democracies in the Americas, you won't find the political strife and polarization found in much of the US right now. View our slide show above to see how Costa Rica can work for you.
Costa Rica is not as inexpensive as it used to be, but for most of us, it is much less expensive than the US. As an example, we are currently building custom homes at $130 per square foot, which is considerably cheaper than most markets in the US, especially when comparing the quality of what you get in Costa Rica for your money, versus in the US.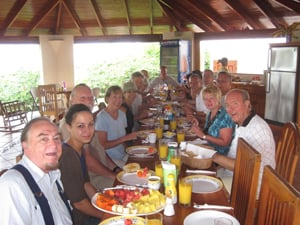 Find out more! We offer 4 day Discovery tours almost every month, typically at least 2 per month, based on demand. We represent the largest residential project in Costa Rica. The projects cover 3200 acres in 21 phases of development, complete with a 10,000 sq. ft. workshop where all our own custom windows, doors, cabinets, wrought iron work, counters, etc. On our tours we provide full transportation to and from San Jose as well as 3 nights lodging. Although we represent the largest project in Costa Rica, we do not offer "walk in tours" since it does not provide enough time to understand what we are all about. Our tour includes lodging, meals and beverages, airport taxi fare and hotel drop off service after our tour and all transportation within Costa Rica. We charge $299 for our 4 day visit, per person. We offer full financing as well as a 5% discount for non financed lot purchases, on land. The firm is debt free and all of the home sites are fully improved with road, water at the lot line and electric to each lot. You will be visiting the largest builder of custom homes in the country. The owner is a woman from France. There's also a golf course only 2 miles from our developments for those of you who golf.
We've had many Ideal Living, International Living, Expat Exchange and Pathfinder readers visit a variety of "Chill Weekends" with other developers in various countries tell us that our discovery tour is the best one offered.
In a nutshell: Imagine your home in a friendly community where you know your neighbors and the beach is your playground. A place known for healthy living and conservation, natural foods and abundant amenities and free of political strife. You can swim in a waterfall while watching wild parrots, toucans and macaws. Where first class health care costs pennies on the dollar compared to the US yet the average life expectancy is 2 years longer than the US. A community located within a few miles from one of the newer hospitals in the country. A place where the value of your property is appreciating each year and reflects your individual taste. Pacific Lots of Costa Rica represents the largest developer on the southern Pacific coast of Costa Rica, where affordable ocean and mountain view properties as well as custom home building services will turn your dreams into reality. We provide excellent value for those looking for a better place to live. Relax, your money will go further than in the US. Enjoy a quality of life we have forgotten in the US. Step away from the stresses of daily living, political turmoil, a country divided and a lack of a sense of community. In retirement, your largest expenses will likely be property taxes, insurance and healthcare costs. These three expenses are significantly less in Costa Rica than in North America. National Geographic's November 2017 magazine rated Costa Rican as "The Happiest People on the Planet".
Come visit on a 4 day Costa Rica tour, sign up below, tour dates are on the left portion of the Visit Us page from the sidebar menu and also on the lower left side of the home page. You can also get more information or sign up for our 10 day Costa Rica Panama tour via the link on the left side of the page.
Prices for home sites in our developments start at $29,000 and candidly for $40,000 to $50,000 you can buy a nice fully improved home site with road, electric and well water plumbed to the lot, in a large international residential gated or non gated community with plenty of room to build a nice home, carport and pool. We have a solid track record of 29 years developing land and building homes. Ocean view sites cost more, starting in the $90,000 range and the top end of our prices at over $300,000 for the best of the best, over an acre with incredible ocean and mountain views. It's easy enough to go to the top of the hill and see the view when you want to and our inexpensive lots typically have great mountain or jungle views so don't think you need to buy a big expensive ocean view.
The development is firmly established, debt free and with nearly all infrastructure completed in all 21 phases spanning over 11 miles along the coastal community in the southern Pacific region of Costa Rica. The developer has built hundreds of custom homes and continues to build high quality homes for our clients. We have over a thousand owners and don't need to show people "artist's renditions" of what the development will look like some day.
We're currently building custom homes at $130 per square foot, with a minimum build size of 1,000 square feet and no time requirement in which you must build by. You can easily get in a home for roughly $200k including land if you don't want a mansion or a killer ocean view. You can build your own house or hire any builder of your choice if you prefer and you have no time limit to build. The home sites are in nicely laid out developments only a short drive from the highway but the terrain makes 4 wheel drive pretty much a necessity within most of the developments. The roads within the developments are gravel, better than you might expect paying only a few hundred dollars in property taxes per year but still gravel. HOA fees within our developments average around $30 per month since we don't encumber our owners with common area amenities like club houses, community pools, etc. There are plenty of places to socialize and with beautiful public beaches and plenty of clean warm mountain rivers to swim in, you can live nicely on a tiny budget if you choose to. We have plenty of rich residents as well with big impressive homes and incredible views but we also have many humble folks living in smaller homes, the choice is yours depending on your budget and your dreams. For photos of some of the Custom Homes in Costa Rica we've built, click here.
Our area is an emerging one, not a big city but more like a jungle village growing quickly, a village but with great restaurants, amazing hotels, easy grocery shopping with anything available including things you would not expect to be able to find (caviar, single malt scotch, Cuban cigars, French wines) literally anything you can get in the states. We have local farmers markets, butcher shops, organic dairy products, fish markets, bigger grocery stores, even Walmart and PriceSmart if you want to drive a bit. Many renowned publications are now touting this area of Costa Rica as the best of the best. As the influx of baby boomers continues to head our way the community has been growing quickly. We've got golf, ATV rentals, horseback tours, white water rafting, zip-lining, national parks, sport fishing, and more within a 30 minute drive. We've also got a nice hospital with a first rate emergency center and cardiology department. Life is simpler, less stressful and not focused on consumerism. We have everything you need, good healthcare, great food, a great sustainable community where you know your neighbors, an outdoor approach to life with more exercise, better food sources, clean water, excellent year round weather and low stress living. One thing you can expect is a longer, healthier life than if you stay in the states or Canada. Health insurance in Costa Rica is much less expensive than in the US and the lifestyle you lead will be healthier than what you're used to back home.
Background: The region around the Osa Peninsula is home to more lowland forest than anywhere else on the entire Pacific coast. There are towering trees, scenic waterfalls and sweeping sandy beaches. A dizzying amount of the world's biodiversity can be found here. In fact Costa Rica contains twice the number of animal species than the entire United States while the US contains over 200 times more land. Though only 30% of the land area of Costa Rica, the Osa region in the southern Pacific contains over 50% of animal and plant species of the entire country. This is pretty amazing considering that Costa Rica is home to nearly 5% of all the animals, plants and birds on the entire planet while encompassing only .02 of 1% of the entire earth's land mass.
Temperatures are in the 80's year round though in a few months it will definitely feel like the 90's during the height of the day but it will cool down at night. Our village has a mix of age groups and nationalities. We are an international community and there are roughly 3500 people living in the village in high season right now, but things are growing fast.
The southern region of Costa Rica was hard to get to in the past but has become much easier in the past few years. That does not mean that many people were not settling in that area. I encourage you to come on down and take a look, our discovery tours are a great and affordable way to visit and airfare continues to be reasonable now that nearly every major carrier; Delta, American, Southwest, United, Spirit Air, Jet Blue, Westjet, Frontier, Mexicana, Lacsa, Taca, Iberia, Air France, British Air and Air Canada and Alaska Air offer service there.
Wherever you end up, accessibility is key. Getting to and from Costa Rica is easy and flights are often less than $400 round trip from some markets. Costa Rica is safe, friendly, stable, affordable, beautiful, inexpensive and offers great health care. You won't see military presence, automatic weapons or guards outside a donut shop. When compared to places like Ecuador, Costa Rica is much more first world with better communications, nicer amenities, more flight options, lots of tourism infrastructure and incredibly friendly people. What are you waiting for?
Click here for a History of our developments
Recent Changes: In January of 2010 two new highways were finally completed, the Caldera highway stretching from San Jose to the Pacific coast and the Costanera connecting Quepos to Dominical. These two improvements made the drive from San Jose to the southern region an attractive three hour drive through some of the most scenic parts of the country. It also made the towns of Ojochal, Tres Rios de Coronado and Chontales much more accessible. This area is home to Pacific Lots, the largest and oldest International residential development for North Americans in the region. Whether you are an individual buyer or a Costa Rica realtor, you will see why we are the most popular Costa Rican real estate project in the country.
This area is considered the southern Pacific region of Costa Rica and is located just above the Osa Peninsula. These three towns touch one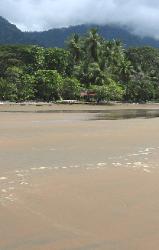 another as you drive south on the Pacific Coast. This area is located about 15 miles south of Dominical and about 30 miles south of Quepos. This coastal Pacific community is in one of the few areas of Costa Rica where 6000 foot tall mountains come right down to the sea. This stunning geography provides some great views. This area of the country is also more tightly zoned and construction is limited to three stories. There are no big developments and the area has become a Luxury International Residential Community of single family homes. The area is also home to some of the most famous beaches in Costa Rica, Playa Ballena (a Marine National Park), Playa Tortuga, Playa Ventanas and Playa Pinuella.
Our homes are truly spectacular and one of the best real estate values in Costa Rica. Our homes are not inexpensive, good assets cost money but we can build you a custom home of your dreams with prices comparable to the US, but once built, the holding cost is significantly less than a home in the US and the rental market can be quite lucrative, if you choose to renti it out.
Our customers are mainly North Americans buying land for their future with many opting to build their dream home right away. Lately we have been getting many more Europeans as well as other international buyers. We've got clients from Australia, Russia, the UK and many parts of South America. Some are investors, holding real estate as a way to preserve the value of their assets as the value of the dollar continues to fall. Others are buying now for their planned retirement in the future. Some are just looking for a change of life, fed up with hectic pace in North America. Many of our clients are baby boomers looking for a lower cost retirement. A surprising amount of our clients are concerned about the economic outlook in the US and worldwide and are looking to protect their hard earned assets by moving some of them out of the US. We are building primary homes, rental properties, second homes and vacation homes. Demand for rentals in our area has been very strong and continues to grow as the new international airport and major highway projects are completed.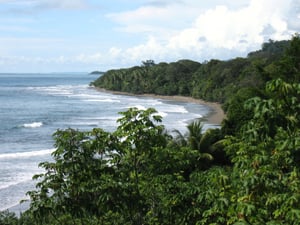 Contact us to arrange a visit to the properties and discover why so many people are relocating to Costa Rica. The low cost of living, high quality affordable health care and the great quality of life are hard to find elsewhere on the planet. Find out what Pura Vida "Pure Life" is all about. All it takes is a few days here to realize why so many are choosing Costa Rica for their future. Hope to see you here soon!
One thing to keep in mind when looking at other developments worldwide is how far along they are. Ask questions like do they have all their permits in place, how many people will eventually live there and how many are living there now? Do they offer financing and have they used debt to finance their developments? There are many real estate projects in foreign retirement communities that are in their infancy or have relied on bank financing. An economic downturn can put the developer out of business Our project is entirely debt free. Due to previous downturns in the world economy, there have been a number of real estate projects in Costa Rica and elsewhere in the world that have run out of steam and left owners without promised infrastructure. Many of these developers had planned on future sales to pay for the completion of the project. These sales did not materialize, leaving a small group of owners to secure permits, electric, water, roads etc. on their own and at their own expense after the developer files for bankruptcy. Many of these projects will never be completed and buyers within these developments were faced with completing enough infrastructure to enable them to live there with many losing the total value of the investment. Another thing to consider when choosing a place to live abroad is the quality and dependability of the water supply. Many areas around the world are facing limited water supplies or poor water quality. We have an excellent supply of great quality water and take pride in the distribution systems in our developments.
Any property you purchase abroad is an asset, not an expense. Assets well chosen will appreciate in value. Traveling as a tourist in Costa Rica is not as inexpensive as it once was because tourism has doubled in the past 5 years alone and demand exceeds supply for tourism. But living there is a different story and surprisingly affordable.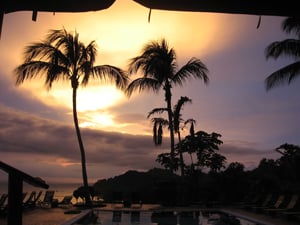 Steve Linder
For information on how to use your 401k, SEP, simple IRA or other tax deferred retirement plan to purchase investment property in Costa Rica