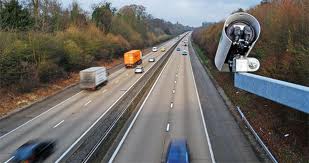 Costa Rica is busy installing traffic cameras to catch speeders on many of the local highways around the capital city of San Jose. MOPT and the transit police are busy installing these new cameras on major routes around the city including the General Cañas highway from San José to Alajuela, the Prospero Fernandez highway from San José to Santa Ana and the Florencio del Castillo highway from San José to Cartago. I suspect we will see them on the new Caldera highway in the future. Fortunately we don't travel over many of these routes on our Costa Rica property tours and we try to always stay under the speed limit. What's the hurry in Costa Rica?
These cameras are expected to be fully operational by the new year and fines for exceeding the limit by more than 20 kilometers per hour will be steep, up to 225,000 colones. The cameras are somewhat different than those in North America, they take a picture of the rea license plate and the fine will be issued to the vehicle owner. Most traffic cameras in the states take a picture of the front of the vehicle and therefore make the driver visible. There will be a trial period and signs are being posted to warn motorists that the cameras will be in use.
Costa Rica has strict traffic enforcement, helmet laws, seatbelt laws and child seat laws. These measures are not desigend as a revenue producing programs but rather are an effort to lower the number of traffic accidents and fatalities. Costa Rica ranks high in fatalities per 100,000 and most Costa Rican drivers are first generation drivers who did not grow up in the back seat of the car of their parents, most of their parents never had cars. The new affluence bestowed on Costa Rica in the past 10 years or so has allowed many inexperienced drivers to afford vehicles. You will often see a yellow heart and halo painted on the pavement where a fatal accident occurred.