China and Costa Rica have strengthened trade relations after establishing diplomatic relations on June 1, 2007. Prior to that date, Costa Rica had maintained a 60 year relationship with Taiwan, which ended with the establishment of new relations with China. As a result of the new agreement, China donated and is building a huge new stadium in Sabana Park, within the city limits of San Jose. The new stadium will hold 35,000 people, provide housing for up to 350 athletes, feature large screen monitors, a sports museum and hold offices for a number of sports associations.
The stadium, being built by the Anhui Foreign Economic Construction Consortium, is employing 768 Chinese nationals as well as 200 Costa Ricans. Working around the clock, the stadium is expected to be completed by February or March of 2011. China is seeking further cooperation on economic, scientific and technological innovations as well as increased participation in direct trade and finance within Costa Rica. The results have proved fruitful as a subsidiary (CHINAFECC Chinese Nationals Central America) of the firm building the stadium has now been awarded the contract to build a new project, Torres Del Lago, consisting of 3 high rise towers in San Jose totaling 14 stories each. The towers will house retail and office on the first few floors, with housing units in the remaining floors.
Laura Chinchilla, who took office as president of Costa Rica on May 8th, 2010, is encouraging Chinese investment and has also promised to make visas more accessible for Chinese investors and tourists. China reached a free trade agreement with Costa Rica in February 2010 under the reign of Oscar Arias, then president of Costa Rica. The trade agreement with China is heralded as a giant step for China in Central America, where most other countries have maintained agreements with Taiwan. Li bin, China Minister of National Population and Family Planning met with Laura Chinchilla in Costa Rica the day before Laura's inauguration as president. Li Bin attended the inauguration ceremonies as well.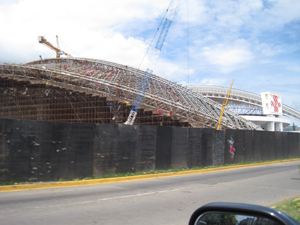 The new stadium is impressive. The massive steel and concrete structure covers more than an entire city block. The Chinese workers on the project are living on the site in temporary housing and a number of Chinese restaurants and service firms have opened in the vicinity to cater to these workers. The stadium will be in the top 5 largest stadiums in all of Central America, behind the Estadio LatinAmericano in Cuba which holds 55,000, Monumental Estadio Cuscatlan in El Salvador which can seat 44,000, the Olimpico Metropolitano in Honduras that seats 40,000 and the Tiburcio Carias Andino, also in Honduras, which holds 35,000.