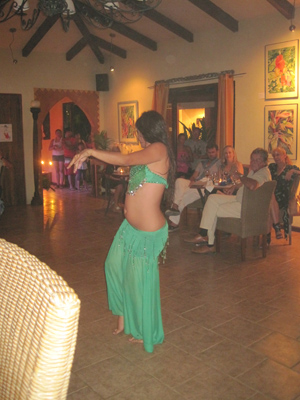 Twice in the past month belly dancers have performed in the village of Ojochal to an international audience of both expats and locals. The venue is an amazing restaurant that one would not expect to find in this small village, a classy place called Citrus Restaurant. Estelle Zaghloul is the lead dancer in the group and I believe was a national champion belly dancer in Lebanon. There were three dancers in all and their repoirtore included fan dances, traditional belly dances and some tribal dances. The show lasted nearly 2 hours with great rhythmic music, fire dancing and hard to imagine movements. The dancers captivated the audience with their hypnotic motions. With every seat full, every door and window also had standing room only crowds crooning their necks to see the performance. The audience for the show reside mostly in the developments by Pacific Lots of Costa Rica located along the Costa Ballena area in the southern Pacific region of Costa Rica. This area is one of the most pristine locations in Costa Rica and has been recently made more accessible with the completion of the Costanera highway extension connecting Quepos and Manuel Antionio to Dominical and points further south.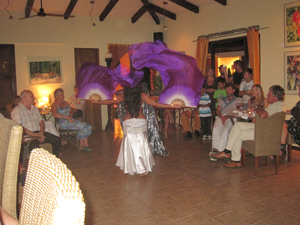 Citrus is a unique upscale restaurant built in French country style along the banks of a river that flanks the main road in Ojochal. Citrus offers incredible food at reasonable prices, with entrees from $8 to $15 and cocktails from $2.50 on up. Citrus also hosts a weekly farmers market in the parking lot of the restaurant on Tuesdays and they also have a small boutique gift shop attached to the restaurant. There's even a temperature controlled wine cellar and a great selection of wines from around the world. Visitors are always amazed at the culinary choices in Ojochal. The town itself is home to close to 40 bars and restaurants including French, Italian, Indonesian, Indian, World Cusine, tapas and more.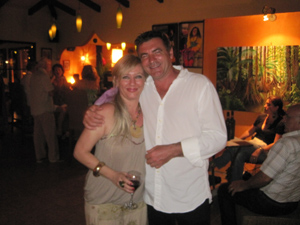 New World Cuisine is the self-stated vision of this eatery in Ojochal. Marcella Marciano, the owner, is a talented professional and keeps her customers happy. The staff at the restaurant include professional chefs, great wait staff and bartenders. The atmosphere is always pleasant and the food exquisite.
Their menu includes great starters and ethnic dishes taking full advantage of the fresh local fruits, vegetables, meats and seafood. Offerings include escargots, incredible curries, fine meat and seafood selections and simpler faire such as sandwiches, salads and pastas. Citrus pursues a strict cuisine-du-marché approach, offering what's seasonally available. Smart as she is, Marcella offers a select number of entrées on the menu, covering just about every taste. The wine list covers a good choice of wines from the new and old world. The luncheon menu offers some Tico mainstays as well as sandwiches, salads, pastas, fish, and seafood.
The look-and-feel of Citrus is the product of a joint effort by Marcella and her husband Sylvain Fillion, himself a seasoned builder, and is reminiscent of a French country restaurant in a relaxed and tasteful setting. The terrace and the beautifully designed white gravel-stone garden are our favourite places to eat.
Citrus also has a small lounge and bar area. There are regular special events such as dance nights with a guest DJ or theme dinners with entertainment.
Citrus is a gem in the jungle worth going out of your way to visit.
Ojochal · Osa · Puntarenas · Costa Rica · across from the Police Station
open Tuesdays to Saturdays from 11am till 10pm · book on weekends
telephones 2786 5175 or 8304 1717 · restocitrus@yahoo.ca
major credit cards accepted