People have been getting quite a surprise when driving down the coast in southern Costa Rica. There among the toucans, sloths and macaws is another rare bird in this area, a cosmic bowling alley. The Costa Ballena region has been amazing people with its bio diversity for years. But recently some new inhabitants have appeared, causing a migration of a different sort.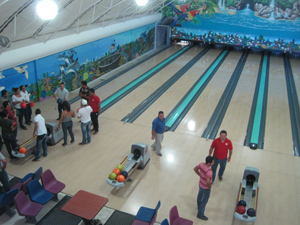 New offerings include Baxter Bowling, a cosmic bowling alley, sports bar complex that recently opened. The bowling alley features 10 lanes, a bar/restaurant and soon to be opened darts and pool tables. Just across the highway is a huge buffet style restaurant, Real Costa, that often has 5 full size buses in the parking lot. Just down the road, the new San Buenaventura Golf course, an 18 hole course complete with driving range now has the front nine holes open, greens fees are only $45 or $60 complete with cart. A bit further south, Osa Mountain opened a new zip line complete with the longest Superman line in Central America with a 2 kilometer run that reaches speeds of 80 miles and hour and they are working on a giant water slide as well.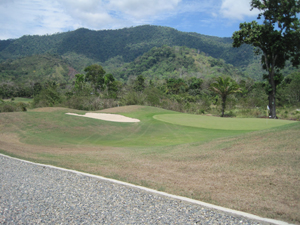 Just a few years ago it was rare to see lots of tourists in this part of the country. The Osa peninsula being the main draw offering Eco Tourist hotels surrounding the Corcovado National Park and Drakes Bay. Golfito rounds out the area with a port offering sport fishing and Sierpe is the gateway to the Osa and Cano Island national park. The town of Ojochal located just north of the Osa Peninsula, was recently featured on HGTV's House Hunters International. Ojochal, noted for its culinary offerings, is now home to a new Mexican Oaxacan style restaurant called Verde in the Hotel Alma De Ojochal. Another new hotel, the Villas de Oro also recently opened. Just down the road in Tres Rios is the new Rio Tico Safari Lodge featuring luxury tents on platforms in the jungle overlooking a stunning mountain river. There's also a new hotel in Uvita, Hacienda Coopeagri, that although basic, has rooms from $48 US and a new restaurant made from a 737 in Dominical on the road to San Isidro En General. The Bahia Ballena area was recently noted by both International Living magazine and Travel and Leisure Magazine as a top destination to visit in 2013.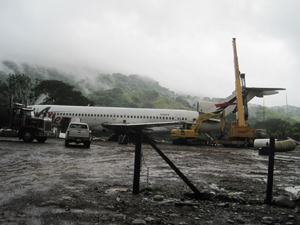 All this activity has added to the real estate boom in the region that started after the new Caldera Highway and Costal Highway, the Costanera section south of Quepos and Manuel Antonio, cut the drive time to the region. The southern region has seen a huge increase in both tourists and baby boomer retirees looking for an offshore shangra la. North Americans are flocking to Costa Rica in search of vacation homes, rental properties and retirement homes. Lured by low taxes, amazingly affordable healthcare and sustainable living, the surrounding area is lush and tropical with ocean temperatures in the 80's year round. The largest developer in the area, Pacific Lots, recently completed a 2200 acre master planned community for retirees, vacationers and life changers. This community is in the town of Chontales, across the highway from Cortes, home of new Hospital de Osa. This new hospital caters to both Costa Ricans and the large influx of North Americans moving to the area. Plans are in place to build a new international airport just south of Cortes. Set among a stunning backdrop of jungle, mountains and idyllic beaches, it's easy to see why North Americans are interested in moving to this area and buying property in Costa Rica.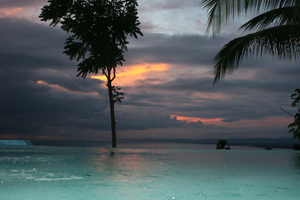 This region is home to some of the most breathtaking beaches in Costa Rica. The Whale's Tail in Ballena marine national park is a must see. Ocean currents have formed what appears to be a giant whale's tail out of shifting sand bars.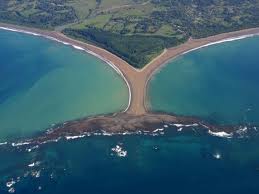 The Bahia Ballena Coast (Whale Coast) is noted for an annual migration of humpback whales from both the northern and southern hemispheres that mate each winter right in this area. Playa Ventanas (Windows Beach) is noted for caves that have been cut through the hillside from ocean wave action over the millennium. You can walk through the caves at low tide for about 100 yards to the ocean. At high tide the caves are completely full of water.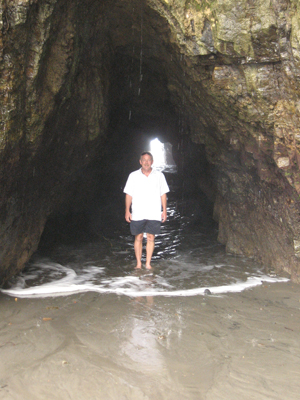 Playa Tortuga, just south of Playa Ventana, is a noted nesting ground for Olive Ridley Turtles. This important nesting area is also home to the Reserva Playa Tortuga Conservancy that runs a monitoring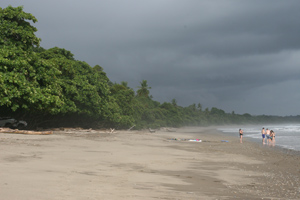 program and hatchery, protecting the turtle eggs from poachers and natural threats. Four species of turtles have been known to inhabit this beach. With all the bio diversity, sustainable living options and activities in this area, it's no wonder why so many expats are now calling the southern Pacific region of Costa Rica their new home. Come see why they call Costa Rica "Pura Vida" which means "Pure Life".