Belize
Again in my comparison of places where north American expats are retiring, here is a summary of Belize. With the wealth of information we have on our website about real estate, living, investing or retiring in Costa Rica, here is the scoop on Belize.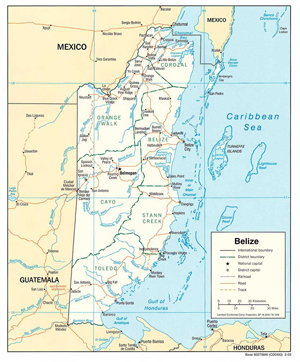 For North Americans who want the laid back, tropical lifestyle of Central America but would prefer to be spared the cultural adjustment of living in a Spanish-speaking country, Belize might be the prefect place. That's not to say that most people in Belize don't speak Spanish (because they do), but as a former British colony, Belize still maintains English as its official language and most Belizeans are bilingual and all official signs and documents are in English, so you should have no problem communicating if you don't speak another language.
And just to make things easier, you won't even have to exchange currencies – although Belize does have its own currency, its dollar is strictly pegged at the value of half that of the US dollar. As a result, American bills are widely accepted, although coins are not. Another benefit to Belize's legacy as a British colony is that a lot of its laws, including property law, is remarkably similar to the British and American legal system.
These might seem like superficial similarities, but they do make life easier for English-speaking expats. But that's not to say that Belize is like a little Central American outpost just for yankee retirees. It's a developing country and has its share of poverty and crime, including narcotics and human trafficking, most notably in Belize City. Visitors who exercise caution should be able to avoid these problems, however, and appreciate Belize's beauty, including world-class fishing and scuba diving.
Belizean people are known for being friendly, welcoming and very relaxed. This means that offices don't always open on time, but the slower pace is just part of the lifestyle in Belize. While the cost of living isn't the lowest in Latin America, it's quite reasonable. A couple should be able to live comfortably on about US$1000 - $1500 a month. Although often considered by baby boomers moving abroad, there's a relatively small number of expats living there.
Country Overview
Belize is a small country located in northern Central America on the coast of the Caribbean sea. It s terrain is mostly flat, with a swampy costal plain and low mountains in the south. The climate is tropical, with average temperatures on the coast ranging from 75 – 80 °F. Hurricanes an occasional concern, and caused Belize City to be moved 50 miles inland after the city was destroyed twice in 30 years.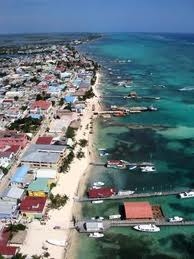 The big expat communities Ambergris Caye, an island off the coast of Belize with the other large concentration of expats being San Pedro town as well as San Ignacio, located almost due west of Belize City. Ambergris Caye has been plagued with hurricanes over the years and requires either a ferry or small plane ride to get there. It's basically a spit of sand with not much to do and more a tourist destination than somewhere you might want to settle down. The water is beautiful however and a popular dive spot.
San Ignacio focuses on eco adventure tourism and is pretty laid back. There are a few expat developments, Orchid Bay and Carmelita being two that are frequently represented at events held by International Living.
Facts and Figures
Belize's population was 301,270 in 2008 and is estimated to be 321,000 by 2015. Most people speak Spanish (46%) or Kriol (32.9%) as their first language, but English is the only official language and most people speak it as a second language, with 54% speaking it very well.
In terms of crime, the rate of intentional homicides is 33.4 per 100,000 people, which is quite high but localized around Belize City.
Political Instability Index (out of ten): 6.2
Quality of Life ranking (out of ten): NA
Economics
In terms of currency, one US dollar is roughly equal to 2 Belize dollars.
Price of a round-trip flight to Belize City:
From New York: $649 (Expedia), $694 (American Airlines)
From Los Angeles: $743 (Expedia), $780 (American Airlines)
From Miami: $865 (Expedia), $1,570 (American Airlines)
Price to rent an economy car for 10 days in Belize City: $658
Median price for an apartment in Belize City's city center: $2,978 per square meter.
Summary: Belize has been lobbying to encourage expats and has an easy program to become a permanent resident as well as even get a Belize passport. Unfortunately there is not much to do there and was a location I quickly took off my list of places to consider as a retirement destination.