Impressive! Our latest effort has been the engineering, design, approval and construction of the water system for the Chontales development. High in the mountain jungle behind Chontales is a large artesian mountain spring. Over the past 5 months a posse of our workers hand carried over 100 tons of cement, rebar, miles of PVC piping and wood to make forms deep into the jungle. These materials have been transformed into a collection system capable of delivering over 40 liters per second of clean artesian spring water.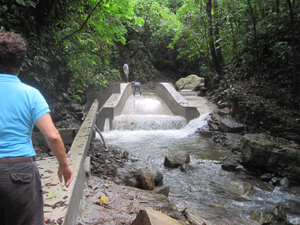 The massive collection system was part of the construction of a water plant including huge holding tanks, pumping stations and a water manifold and distribution system designed to deliver high quality spring water throughout the phases in Chontales. Part of the system uses pumps and a large holding tank plumbed high above the development to add pressure and capacity. Tons of concrete had to be placed to direct the overflow of spring water downstream. Huge anchors had to be cast using concrete and rebar to hold the 7" PVC piping that at times is suspended in the air as it makes it's was to the main holding tanks. The piping is encased in concrete for much of the way to stop vibration from the huge volume of water passing through it. The entire system had to be able to withstand a 100 year storm.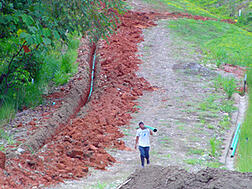 Millions of dollars in infrastructure has been invested in this project and there is nothing like it in the entire country. Millions of dollars in road construction has been completed, nearly all permitting is complete and the water and electric system is now being installed. With the first homes now being built, nearly 10 years of design work, permitting and planning are quickly coming to fruition. Sales have been brisk, especially for the better ocean view home sites to the retirement market, second home and vacation rental market.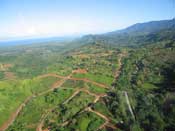 Many of you may not be aware that the Chontales development, marketed by Pacific Lots of Costa Rica www.PacificLots.com is the largest Master Planned Community in the entire country. Located along the Costa Ballena, the project encompasses over 2200 contiguous acres with nearly 1400 home sites in 6 development phases. The Chontales project includes both commercial and residential sites including a hotel site and a promenade for shops and restaurants. Phases include Radiant Sun Valley, El Chivierre, Suenos Del Tropicos, Tropicos Verde and Vista Sin Fin. A project like this must comply with a stifling multitude of governing regulations, requirements and restrictions.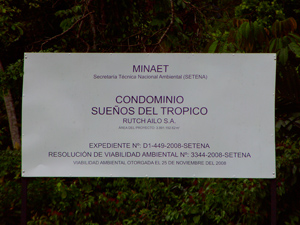 Developers in Costa Rica face unique challenges. Regulations are daunting and overwhelming. Costa Rica sells Eco-Tourism, in fact tourism is the largest source of income for the country and lawmakers have to insure their natural attractions remain pristine. Real estate developers often have other agendas. But history in Costa Rica has proved that unless developers work in harmony with the environment, comply with the laws, have deep pockets and an experienced team to complete the task, they will likely be shut down or run out of funding, determination or stamina before completing the job.
Abandoned real estate projects are rampant in Costa Rica. A simple Google search on "partially completed development for sale Costa Rica" brings up page after page of results.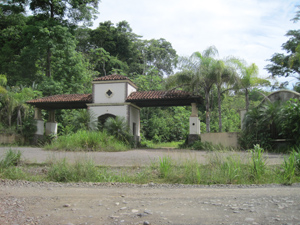 One development, Paragon Properties, left nearly 2500 customers with nothing. The main casualties of these failures were the clients, mostly North Americans, who bought into a dream that never materialized. Thousands of people lost their entire investment when developers gave up mid stream, out of money and patience after frittering away deposits and payments by clients who will never get what they paid for. Some of these developers had malicious intent but most simply did not realize the maze of requirements they'd come across and many did not anticipate the cost of compliance.
Abandoned Project Gates
Customers were lured by a low priced product that sounded too good to be true. Developers selling titled lots for $10,000 or homes for $75,000 including land. The old adage "you get what you pay for" is alive and well in Costa Rica.
To build a project of the scale of Chontales is a massive undertaking. Here are some of the hurdles but not all of them....
Submit Master Plan to INVU and MINEA - Master plan approval

College of Engineers and Architects - Infrastructure plan approval

MOPT - Ministry of Public Works and Transportation, approval permits and oversight of road design, construction compliance and highway access

Surveying and Mapping - Sites surveyed, marked and platted according to the plan

National and municipal requirements include approvals from MINEA (the Ministry of Environment and Energy) Environmental protection and conservation

SETENA (National Environmental Technical Secretariat) Reviews and evaluates environmental impact considerations.

Municipal Zoning compliance -Land use, zoning, compliance, permitting, use taxes

The National Registry - Legal segregation and registration of properties, ultimate submittal of catastro and folio real in national registry (plat and title documents)

AYA - Water approvals, quality and capacity requirements, setback requirements, renderings, topographic surveys

INVA - National Institute of Housing and Urban Planning, creek and river setbacks

SENARA - Costa Rica's agrarian development institute IDA and national underground water and irrigation service - protects water

ICE - Public utility for electricity, data and communications plans power poles, transformers and street lights, developer installs per ICE plan

INVU - Final Compliance and Approval for segregation
These regulations have resulted in the failure of a large number of real estate projects in Costa Rica, through the expense, delays and regulations that must be met. Now in its 23rd year in Costa Rica, we are the largest builder of custom homes and have more experience than anyone else. We have no bank debt or other sources of financing and never have. Don't risk your money anywhere else. Low price is quickly forgotten while the bitter taste of poor quality lasts forever. Don't risk your hard earned cash buying vacation, rental or retirement property in Costa Rica anywhere else.