I wrote this on the 6th of January: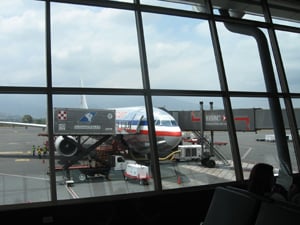 When I arrived to the San Jose Costa Rica airport this morning for my flight back to Miami, the airport was packed. I was on the early flight, UGH, the one that departs at 8:00 am. That's the one you have to get up for at 5:30 am to arrive two hours before departure, not my favorite flight. When I arrived at the airport, I could tell something was wrong. Seems the flight had been delayed with a scheduled departure time now of 9:11 am (there goes an extra hour of sleep I could have had). The inbound flight had arrived late last night and FAA regulations require that the flight crew and pilots have sufficient time between flights to get adequate sleep.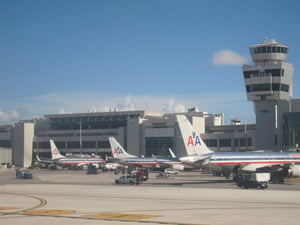 American Airlines was offering $800 per person for anyone willing to give up their seat on a number of flights. Dallas, Miami and JFK were all oversold. Fortunately for me, there are 4 flights per day to Miami so giving up my seat for $800 was a no brainer. Over the course of the day, I volunteered my seat, received an airline voucher for $800, was reticketed on the next flight and volunteered again. Each time the airlines also gave me a meal voucher as well. Over the course of the day, I was "bumped" 3 times, collected $2400 in American Airlines travel vouchers that are good for a year, received nearly $100 in meal vouchers and finally a hotel voucher for the Wyndham where they put me for the night. When I arrived at the airport the next morning, they were still offering $800 vouchers to give up my seat but I did not want to be greedy.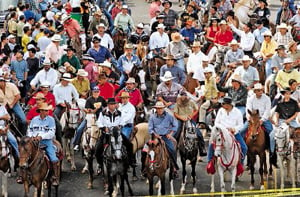 Costa Rica's tourism is in high gear. With a nearly 10% growth in tourism in 2012, 2013 appears to be likely to set record increases once again. It has taken a toll on the convenience of being a tourist however. Hotels are sold out, rental cars are hard to find and restaurants are packed. Traffic is bad and there are lines everywhere. This trip the only rental car I could get was a tiny Diahatsu Terrio, which should be named the Terror. The wheel base is about the size of a baby carriage and it rides like a broken wagon. Not the typical car I would rent when running real estate tours in Costa Rica. This is the season of festivals, like the Palmares Horse and Rodeo Fiesta, Zapote's Tora a la Ticas bull riding and the festival de la Luz lighted parade. Costa Rica has figured out how to party.
I was in Costa Rica this time for only 4 days, our January 2 - 5 property tour was sold out and I was needed as the extra driver for the group. The weather was beautiful, the beach was gorgeous and the animals, birds and plants did not disappoint anyone in the group. But the detrimental effects of this continuous increase in tourism has increased cost of airline tickets, hotels and tours. Don't get me wrong, the cost of tourism is still a bargain compared to many other locations but it's not as cost effective as it once was. I went to the rodeo in Zapote and the entrance fee was $26 US. I'm sure this is making things more expensive for the Costa Ricans too. But the cost is worth every penny.
I love my time here, hate to leave and always look forward to my return. Thankfully this is what I do for a living. Leading property tours in Costa Rica is great work if you can get it. It's also great to know that as a resident, the higher cost of tourism has had little effect on the cost of living other than those things that tourists do. things like property taxes, insurance and the cost of health care is still an amazing bargain. The local newspaper announced today that there are now over 500 Costa Ricans alive that are over 100 years old and the number continues to grow each year. Hopefully it will add a few extra years to my live, after all living in "Pura Vida" is not too tough to take. And paying my annual property tax bill which is still less than $200 helps keep money in my pocket to enjoy the other things in life. Looking at our tour schedule we continue to sell out nearly every tour, adding 4 to 5 tours per month at this point. With 10,000 baby boomers retiring per day we can clearly see the ramp up in demand to live in a tropical paradise, retire abroad, own a vacation home, second home or investment property, putting pressure on prices here and in the foreseeable future. Don't be the last person to realize this is a great place to retire. Pura Vida...