"One cannot think well, love well, sleep well, if one has not dined well."
Virginia Woolf
Who, What, Where - The culinary scene on Coast Ballena is not what you would expect it to be-that is, a bit of a mixed bag with great local food at cheap prices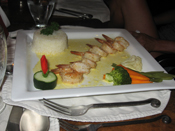 and expatriate chefs renowned in their homeland who can't get good ingredients. There are several restaurants that indeed deliver great quality food. Ojochal is known along Coast Ballena for having the best restaurants. In fact, it is not uncommon to find people making the drive from San Isidro, Dominical or Palmar to Ojochal to sample the best cuisine around. One restaurant in Ojochal clearly stands out. Lucy and Robert Levesque's Exotica Restaurante would set a mark of culinary excellence and personal grace anywhere on the globe.
Looks can be decieving - As you drive up to Exotica on the main Ojochal road, don't be discouraged by the traditional Pilsen beer sign that bears the Exotica name. When you enter the dining area, you will see that it does have the traditional outdoor configuration of the Costa Rican soda. However, what is also clear is that Lucy and Robert have gone to such great lengths to dress up the atmosphere in elegance that this is a restaurant for quiet chic dining. The candles, centerpieces, and music-among other things-give a comfortable flair that comforts the soul.
Meet the owner - The grace of the restaurant is further accentuated when you meet Lucy, who lives life to smile and serve her clientele. If you make a late reservation you may even be able to sit down with Lucy to talk with her about the positive jolly perspectives she has on living after having been in Costa Rica for over 10 years. Upon opening the menu, you will peruse quite an extensive assortment of world cuisine with a slight bias toward Costa Rican ingredients. For starters, try the generous blue cheese salad, with the best assortment of greens around. The pâté is also to die for. Finally, the Vietnamese chicken soup will make you feel like you are in a jungle in Laos and not in Ojochal.
Choices choices - There are about 20 main courses that grace the pages of the menu, and all of them are worth a try. However, there is a consensus assortment of preferred dishes. The duck loin with orange sauce is a standout, cooked to perfection to order with an always delightfully crispy skin. The most popular dish in the restaurant is the filet mignon, the best cut of beef to be found for at least 100 kilometers. The bourguignon sauce is the popular choice for the filet mignon, but the other sauces (green pepper and mustard) are fantastic as well. Seafood is all wonderful with choices of such delightful sauces as garlic butter and banana curry. A sleeper on the menu is the stroganoff. This heavy cream-based dish with fresh tomatoes and extremely openhanded use of basil make this one a real treat.
On to the desserts - Lucy has a catering business on the side called Dulce Lucy (Sweet Lucy), and the name is well deserved. Desserts are Lucy's personal passion. The thick and rich brownie with ice cream is the popular choice. The mint velvet pie is an extremely refreshing frozen treat with a chocolate crust. Lucy's specialty sugar pie with a sweet custard filling and traditional pie crust is another delight.
Lunch Treats - A separate lunch menu is served and is of equal quality and value. Highlights are a warm goat cheese salad, lasagna, and a creamy seafood soup in a flakey bread bowl. n fairness, we must mention that on occasion, there is quite a bit of noise coming from the cars speeding down the Ojochal road, and if there is a hard rain on the metal roof, your quiet evening could end up being anything but quiet. However, the culinary experience at Exotica is not to be missed. You will feel warmed by the positive atmosphere and filled with the exquisite food. The quality is unparalleled and compulsively consistent. On Costa Ballena, nothing could be better. (Closed Sundays)