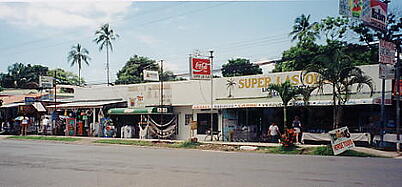 The two towns most visited in the central Pacific region are Jaco and Manuel Antonio (actually it is Quepos but the nice part of Quepos is referred to as Manual Antonio, the name of the national park that sits there).
Jaco is a surf town but a number of developers have recently built high rises there and are trying to change the area to a more upscale tourist market. The Sonesta, Daystar and a few others have built high rise hotels there, one of the few areas along the coast were Costa Rican law has allowed development within 50 meters of the beach. Unfortunately many of the high rise projects were stopped short of completion when the real estate downturn from the US hit this local market. The area had been overbuilt with supply and inadequate demand.
The surfer undertone still reigns in Jaco and with it came both drugs and prostitution, the later being legal in Costa Rica. The result has left Jaco in a kind of limbo between a sustainable tourist market and a haven for back packing surfers and riff-raff. Kristina and I don't recommend Jaco as a spot to visit but is an interesting place to drive through. Don't leave luggage or valuables in sight in an unattended car in Jaco. Being the beach town closest to San Jose attracts some elements looking for opportunity to take stuff from unsuspecting tourists. We don't ever leave luggage or valuables in our unattended car anywhere in Costa Rica, nor would I in many parts of the US.
The town next to Jaco is called Playa Herradura and home to the Marriott Los Suenos resort. As one of the most successful Marriott projects ever built, the resort features an 18 hole golf course and full service marina. It is quite expensive however and once inside the gates you'd think you were in Miami instead of Costa Rica. It makes up in amenities what it lacks in Costa Rican charm or experience and many an upscale tourist raves about it. It is a good place to find the typically "ugly American" and although the staff will greet you with a smile, they are often treated as servants and there is an undertone of resentment that is well founded.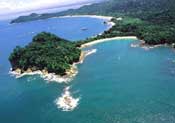 Manuel Antonio on the other hand is a laid back tourist town. It has the most visited national park in the country along with a soon to be completed marina. Quepos is the sport fishing capital of Costa Rica and the fishing is great. The town is definitely a tourist town, a great place to visit but I wouldn't want to live there. The national park is a great destination and we typically see more animals there in a short visit than anywhere else in the country. We spend two days there on our ten day tour for good reason.
Although hotels are pricier there, the town has nice hotels, plenty of good restaurants and a laid back feeling that is soon to go away (the Wyndhan hotel chain is now building a 200 unit project that candidly doesn't belong there. Up until recently the town was knon for upscale boutique hotels with kind of a bohemian flair. We recommend the http://www.costaverde.com/hotel and specifically the units facing the ocean in their Costa Verde II building. The units are huge with commanding ocean views, complete with kitchenettes. These units do lack AC however but they typically get a nice ocean breeze and each room has a number of ceiling fans. Most of our tour clients say they would like to live there in response to an evaluation we send out after each tour.
Weather in the spring will be in the 80's during the day though the humidity may make it feel hotter. The rainy season, which starts in mid May, only means that you can expect an afternoon shower and possibly hard rain at night. The days are typically sunny and will cloud up late in the day. I like that time of year and especially the late afternoon storms that come in off the ocean. We rarely get rain all day but it can happen. Even in heavy rain it is still 80 degrees so if you have rain gear, it is not uncomfortable.
I sometimes bring mask, snorkel and fins. If I plan on anything beyond that, there are plenty of outfits that provide equipment (even mask and snorkel) if you don't bring them. We get one chance to swim in the Pacific on our tour but it is only to get a chance to see what the local beaches are like. Being on the Pacific coast means most beaches have surf although there are a number of sheltered coves for those who wish to snorkel. So if you want to snorkel, you'll have to do that on your own time. If you want to visit Manuel Antonio on a lower budget than the Costa Verde hotel, there are many in the $75 - $100 dollar range that will suffice. Also keep in mind that the national park in Manuel Antonio is closed on Mondays. If you want to visit the park, best to go early since they limit the number allowed into the park at one time and the animals are more active in the morning. Also realize that there is nothing for sale inside the park so bring your water and a lunch if you desire. There are nice public bathrooms as well as showers to rinse the salt water off after swimming. The park has one of the nicest beaches in the region as well as some easy hiking trails.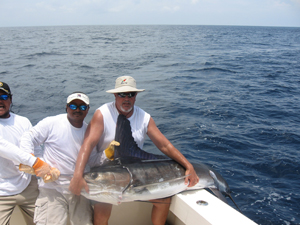 Quepos also has great opportunities for sport fishing though you need to arrange your trip a bit in advance. We recommend http://www.lunatours.com/ and specifically their boat, the Magic Moon. Tell them Steve and Kristina from Pacific Lots recommended them. They will try to combine interested groups to fill the boat as long as you've given them some lead time. Sport fishing there is expensive (about $1000 for a full day with 6 passengers) but we have always caught an amazing amount of prized game fish. It is not unusual to catch Marlin over 500 pounds, multiple sail fish, a tuna or two and some other species. Most is catch and release but the tuna is fillet and release and tastes great. Anglers must also purchase a sport fishing license which adds about $20 per person to those who want to fish. The license is good for a year though most will only use it once.