Here is an email I recently wrote to one of our clients that wanted a tour of a few hours with little notice.
I have been communicating with both of you for quite some time now, and recently about visiting in late July. As I might have explained in the past, we are not a 40 acre development like most others and our property can not be seen and what we have to sell can not be appreciated in a few hour visit. Our staff is busy, we operate a guest house for the sole purpose of providing tours of our property and keep a full staff dedicated just to show our properties and prepare our meals. Our staff is busy, we are not realtors, we are developers, our staff runs our tours and after 21 years of experience, we know that a tour of two hours will do nothing except leave you wanting to see more, spend more time, visit some of the custom homes we are building, tour our workshops where we make all our own doors, windows, counters, custom cabinetry, wrought iron work, etc. that is you'll just end up wanting to take a full tour before you can make any kind of decision.
Keep in mind that we are the largest residential project in the country. Our latest development encompasses over 2200 acres and our first 9 phases are sold out, with over a 1000 customers to date. Our method of showing our property is not because we want to waste your time for 2 days, it is because it takes time to see what we offer to our clients, the largest development in the country, custom home building services, full property management services, rental management, a turn key system of home ownership where every home is custom built and our community is why we are the most successful project in the country. Safety, the ease of getting a home built, true residential zoning (not agricultural or parcela minima), roads, artesian well water plumbed to each lot and electric provided in all developments, help with residency, assistance opening bank accounts, facilitating purchase through self directed retirement programs, etc. Our tours are almost always sold out, just check our website to see. We continue to sell millions of dollars in properties each month while most other developers are struggling to stay in business. We have no bank loans, are debt free and have over 500 full time employees.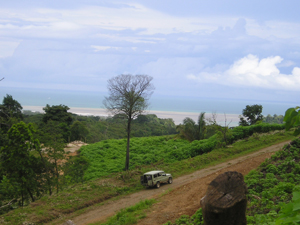 We do have a two day tour running July 26th and 27th, starting at noon on the 26th and ending after breakfast on the 28th. We will be looking at custom homes we are building on the afternoon (after lunch) on the 26th and we'll be looking at available home sites on the morning of the 27th (after breakfast). We'll tour the hospital, our wood shop, swim at a local Pacific beach, visit a local supermarket on the afternoon of the 27th although some on the tour will also want to re-visit home sites for their final selection. However for you to show up on the 27th and see available home sites while not having already seen how we build homes, how to build on the side of a mountain, our construction methods (not concrete block like everyone else but in fact a high tech product introduced into Costa Rica by the Four Seasons Hotel chain) understand what services we offer and our community, will leave you comparing our dirt to dirt you'd seen being offered by every other project in Costa Rica. Our dirt costs a bit more comparatively, on a per acre basis, since our infrastructure is much better, we develop in true urbanization zoning, we meet all municipal standards, we guarantee title, we offer full financing of land, etc. The quality of our roads, the purity of our water system, the engineering, permitting, etc are why we continue to grow while many other projects have gone bankrupt.
Our staff will be busy on the days you are there running the tour running July 26 – 28. The folks on that tour have paid a $250 deposit per person to attend the tour and they deserve our attention. We credit the deposit to the purchase price of any property and we give them a $1000 travel credit as well, toward any purchase in our developments. We feed them, house them, take them on tours for two days, show them the hospital, the woodshop, the community, etc. That is how our program works.
If you want a one day tour (this would require at least 5 hours) I can arrange such a tour by paying an owner in our community (not an employee of our company) but just a home owner who lives in our phase 9 to tour people through our project. I have to pay that person $20 per hour to do so, they use their car, their time and they take you to lunch mid day since you will be hungry before the tour is finished and lunch gives you a break to digest what you have been seeing. Most of the time you will be asking questions, real questions being answered by owners in our community, not some sales guy. In fact all of our staff live in town, including the owner of the development. We do not have any of the realty firms represent us, they would not know where to begin.
So that is the answer to your request for a tour, again I suggest you take the full tour, spend the time, get what you paid for. If you want a one day tour, I can arrange that but you will have to pay $100 via a credit card to us since that is what it will cost us to provide that tour. You will also have to pay for your own lunch, which will likely be at Café Exotica, one of the many local restaurants in our community. We are not a tourist town, we are a residential community. You don't want to live in a tourist town, which relies on transient renters to keep business alive. Transients don't provide a community, the locals in tourist towns are all employed in businesses that take care of tourists.
There are many projects that just have not and will never complete what they have promised to others. The reason why International Living continues to invite us to every show they put on, why we are a sponsor of many events, why we were the major sponsor in Quito, Toronto, San Jose, Las Vegas, Denver, Cancun, etc is because we are worth the time to visit and both the education you will get and the opportunity to purchase in a well planned, well managed development are worth every penny and every minute you will spend in the process. Even those who don't like our project (we are not for everyone) are still thankful for the education and knowledge they have received about purchasing property in Costa Rica or in any other foreign country.