It's good to write today with an update of activities in Chontales, our largest master planned community within our developments. Our crew there is very busy!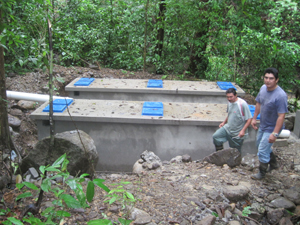 The main infrastructure of the water system for all projects in Chontales is in place; the water collection system is completed allowing an intake of 40 liters per second of water (10.5 gallons) to feed the developments, a particle filter is included along the way and a 65 m3 holding tank (17,000 gallons) is completed, its purpose being to serve as a water reserve for the area.
Of course, water is already available in Radiant Sun Valley, Vientos del Sur (Chiverre)and Tropicos Verdes (Condo del Cielo), but of particular interest is the fact that we have just begun working on the first stage of the water system for Suenos del Tropico (Rutchailo), our biggest project to date!
Likewise, we have signed a contract for the first stage of electrical infrastructure for residential service in Suenos Del Tropico, which means that homes initiating building will be delivered with all services in place!
Great things are happening out there in Chontales and we want to thank our customers for helping us make them happen! As the largest residential project in the entrie country we are proud of the progress underway.
We here at Pacific Lots have a busy summer schedule with our tours and as the largest real estate project in Costa Rica specifically designed for expats, we continue to lead the way in how things should be done. Anyone traveling around Costa Rica will see a large number of failed real estate developments throughout the country. I get many emails from owners in these developments looking for our advice and help. It's easy to buy land in a foreign country however getting the house of your dreams built on it is not so easy. We are constantly asked to build in other developments but unfortunately we don't have the bandwidth or desire to do so.
Kristina and I are here right now with two back to back sold out Costa Rica property tours and have a number of additional tours scheduled this year. See our website at http://www.PacificLots.com for more information about upcoming Costa Rica real estate property tours.