If you've never visited an active volcano it's certainly something you should put on your bucket list. To bear witness to our earth's constant transition and what ancient Greeks believed was powered by the acts of gods is quite remarkable.
Costa Rica is located in the Pacific Ring of Fire which starts in New Zealand and goes through Indonesia, the Philippines, Japan and Alaska then turns south along North America, Central and South America ending in Peru and Chile. The country has over 200 volcanic formations dating back 65 million years. Only 5 are currently classified as active and most lie in the northern and central parts of the country (a long way from our properties in Costa Rica). These volcanoes captivate the attention of tourists and scientists worldwide. Costa Rica's lush and fertile soil is due to ancient eruptions. This fertility has contributed to dense forests which support the great biodiversity of this small country.
Irazú, the highest volcano, is known for its colorful teal blue lake situated in one of its craters. No lava flows have been identified from Irazú since a massive eruption about 14,000 years ago. Ash fall from the last eruption in 1963 showered San Jose. On a clear day from Irazú's summit you can see both the Atlantic and Pacific oceans.
Poás, the most accessible volcano, is filled with a boiling sulfur-rich lake. Poás eruptions often include a geyser-like ejection of crater lake water. Two Calderas (cones), one nested within the other, developed in the summit area of Poás. The younger, smaller collapse occurred less than 40,000 but more than 7,540 years ago.
Arenal is perhaps the country's most popular volcano. It's the most active regularly spewing gas, steam and hot red rocks. Arenal, Costa Rica's youngest volcano, was considered to be extinct since it had remained silent for more than 400 years and was referred to as a mountain. In 1968 the volcano suddenly erupted blowing a huge hole in the mountainside. Its eruptions continued for several days and completely buried over 9 square miles with rocks, lava and ash. Currently its activity is closely monitored by scientists and the population now lives a safe distance away. When Arenal first erupted in 1968, 95 people were killed in the towns of Tabacan and Pueblo Neuvo. Fortunately not many people were living in the area at the time.
Two other volcanoes of merit are Barva and Turriabla.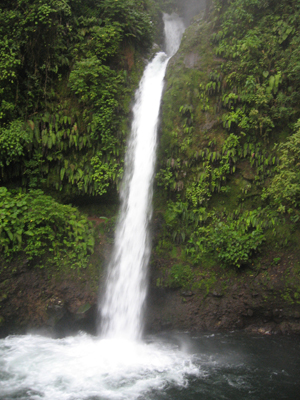 Tourist attractions have been built near these natural attractions. On the flank of Arenal volcano there are two hot springs water parks, Tabacan and Baldi. These parks use natural spring water that is heated from deep in the ground. The water is distributed through a series of small man made streams, eventually ending in a large pool. On the northern side of Poas is La Paz Waterfall Park. This attraction includes a series of steps and bridges offering views of 5 large waterfalls. There is also a bird aviary, a butterfly farm, a serpentarium, a frog museum, a wildcat exhibit, a hummingbird exhibit and much more.
Arenal is located in the Cordillo de Tilaran Mountains and the other four active volcanoes are located in the Cordillo Central range. Much of the time the cones of these volcanoes are surrounded by clouds, making viewing difficult. Volcanoes are powerful entities with the ability to capture the imagination. They are the origin of many legends, the cause of some scientific research in space, and a source of lightning, diamonds, and electricity via geothermal energy.