Ecuador
A recent report reveals the number of expats across the world is at a record level. There are over 5 million US residents leaving the country every year, in search of a better way of life.
When I first hit Latin American shores, there was no going back. Central & South American exploration has taught me many hard-earned and enriching lessons. There's a reason I return each year to experience some of the most spectacular, popular and remote locations. You just can't help, not to notice an abundance of opportunities around every corner. But, what you really uncover on this journey, is simply a totally new perspective on how to live.
Country Overview
With a surge in economic growth of almost 5% since the 2020 lockdowns. Ecuador is ranked 8th out of 64 countries by the Expat Insider 2019 survey, as being most appealing to the expat, investor and retiree community and often compared to the Costa Rica of 20 or 30 years ago.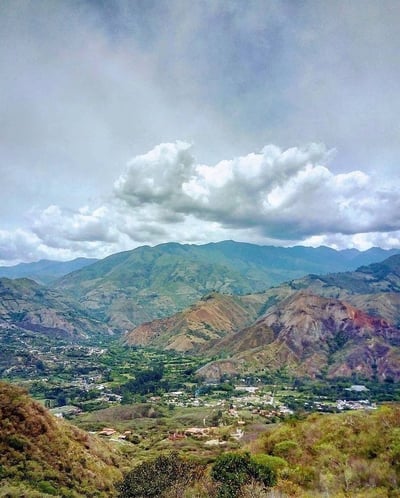 Photo cred Instagram: Mountainside Vilcambaba, Loja, Ecuador - #sweetconcious
Home to the Andes Mountains and Galapagos Islands. This extraordinary, bio-diverse, Garden of Eden, with a laid-back pace of life and friendly locals, has become a retirement haven for Americans. And it seems plausible that Ecuador's star will continue to rise as a favored retirement destination.
Ecuador, appropriately enough named, sits roughly in the middle of the equator on the coast of the Pacific Ocean. It comprises three main geographical regions: "La Costa," the low-lying area of the Pacific coast; "La Sierra," the central highlands dominated by the Andes, and "El Oriente," the eastern half of the country, mostly made up of the Amazon rainforest.
Living, Investing and Retiring
Ecuador has a low cost of living. For example, it's among the cheapest places in the world to buy groceries and hire a personal full time cook/housekeeper, costing only $30 per week. It's possible to live comfortably in Ecuador on less than $20,000 per year or roughly $1200-$1600 per month depending on your lifestyle. Monthly expenses hit around $25 for electricity, $5 water, $400 for food, $40-$60 phone and internet and $15 p/m for cable TV.
The property market is favorable, renting a furnished apartment can cost as little as $400 a month or around $600 for a house. Ecuador is still a developing nation, the rule of thumb 'try before you buy' is always advised. First visit and rent, get a feel for whether you are comfortable with the lifestyle, get to know the area, the neighbors and decide if you connect with the town, amenities and climate. Not to mention, the best deals are always found directly from local and expat connections.
Now, I, for one, prefer a quiet coastal vibe. So, I'm sitting pretty in a beach bungalow with private bath, kitchen and Wi-Fi for $300 a month (and that's on the expensive side) after being here for a few months, I've got a feel for the town and discovered many other options for well under $200. I also prefer to cook and take advantage of the bountiful local produce and fresh fish delivered daily off the boats, so monthly grocery costs are closer to $200 p/m. Around here, even if you want to splash out, restaurant and wine style, you're still looking at well below $400p/m, which is mainly due to coastal opposed to city pricing. I don't have a phone plan - there's Wi-Fi everywhere you go, and a prepaid chip will more likely cost $10 - $15 pm. Who has time for cable TV? And just in regard to Wi-Fi, you will find excellent, fiber optic connections in all the major cities, the coastal town best offers are around 8Mbps up & 4Mbps down and of course, there could be a lack in the more remote locations.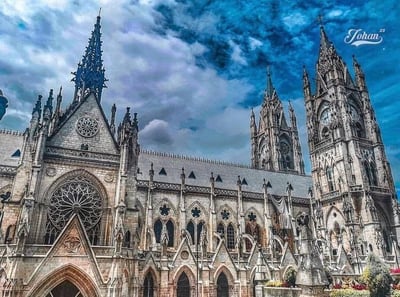 Photo cred Instagram: Basilica del Voto Nacional. Quito, Ecuador - #johansanti98
It's worth noting, prices in major tourist centers will be more akin to what they are in the States, but this is not the case for most of the country, in Ecuador you get what you pay for. One of the most convenient things about Ecuador for Americans is that it uses USD, so you avoid currency conversion hassles. It's like taking your money back in time to when a couple of greenbacks could buy a decent lunch. Now, Ecaudorians, love to lunch. A typical 'almuerzo' consists of soup, 'el segundo' plate is a choice if meat, chicken, fish or shrimp served with rice, beans, salad and fried plantain 'patacon' this will set you back $3. You can still buy a litre of milk for $1.4c and fuel is around $1.50 per gallon.
Facts and Figures
Data sourced numbeo.com (2021) worldometer (2020)
The climate varies depending on altitude; mild in the valleys, temperate and dry in the Andean highlands, and it's rainy and tropical on the coast.
Ecuador's population was 17,888,475 in 2021 and is estimated to reach over 18 million in 2022.
In terms of crime, the rate of intentional homicides is 6.7 per 100,000 people (2019)
Crime index by city: Quito 60.02 and Cuenca 39.02 (Feb 2021)
Political Instability Index: -0.05 (2019) for comparison the world average is 0.00
Quality of Life index : 117.70 (Feb 2021)
Life expectancy rate: women: 80 years and men: 75 years
Median age of population: combined 28.8 yrs
Cost of living Index: Ecuador 40% compared with any US State which is around 80%
Spanish is the official language of Ecuador
Flying to Ecuador
American Airlines, JetBlue & Eastern Airlines fly the most frequently from the United States to Ecuador. You will also find great deals with Copa Air, Delta and United Airlines.
Price of a round-trip flight to Quito:
From New York: $456 (Expedia), $591 (American Airlines)
From Los Angeles: $460 (Expedia), $573 (American Airlines)
From Miami: $344 (Expedia), $477 (American Airlines)
Price to rent an economy car in Quito is between $19 - $27 per day
Travelling to Ecuador with pets
There are no restrictions on traveling or bringing pets to Ecuador. First contact your airline to find out about any individual costs or requirements and then make a few trips to a licensed veterinarian. First, obtain a 'typed' vaccination certificate 21 days before departure and complete the required immunizations. Then, 48 hours prior to departure you need a certificate stating your pet is showing no signs of infectious diseases.
You can download the following entry application forms here:
Veterinary Health Certificate for Export of Cats from the United States of America to Ecuador
Certificado de Salud para la Exportación de Gatos de los Estados Unidos de América a Ecuador
Veterinary Health Certificate for Export of Dogs from the United States of America to Ecuador
Certificado de Salud para la Exportación de Perros de los Estados Unidos de América a Ecuador
Finding Paradise
Well, for the nomads, the key to happiness is enriched through discovering new places and the journey itself. But, deep down, really, we all just want to find our 'place' our 'slice of paradise'. For the savvy investors looking at property in Latin America; this is not likely to be your ticket to financial freedom. Realistically, you shouldn't be expecting to flip houses or see a huge short-term return on property value, it's not like the US. You're buying for the long term, for the lifestyle. You're buying your slice of paradise. And for the retired or soon to be retired expats, the cost of living out your dreams in paradise makes complete and utter, economic sense. So, there's that and then it's just the very personal task of finding the place which best suits your interests, values and needs.
Currently, the two most popular destinations for expats, investors and retirees in Ecuador is Quito & Cuenca. And there's a good reason why tens of thousands of expats have decided to settle down and take a slice, both these cities have been recognized by UNESCO as a World Heritage site.
Quito is the capital city, located high in the northern Andean foothills. It sits at an altitude of 9,350 feet above sea level and many could find themselves overcome with altitude sickness without a bit of conditioning. With 2.5 million people currently and around 10,000 expats calling this beautiful Spanish colonial city home. 'Quitenos' are friendly and extremely accepting of the growing expat community. Just keep in mind, it's still a city and you need to keep your wits about you with regard to petty crime and robbery. Property prices will vary on location but an average price per square meter for condos based on stats in latest numbeo range from $1,000 - $1,600. Apartments in the old colonial center are selling for $40,000 - $70,000. For the most popular expat neighborhoods delve into the city central, Gonzalez Suarez or Tenis.
There is access to ample, top-notch amenities and as a point of reference, a recent healthcare comparison between Quito & New York reveals; Quito ranks practically equal with regard to medical skills, competency, quality of facilities, equipment and accuracy, but then comes out on top, due to higher satisfaction in costs and convenience of location. Ecuador is ranked #34 worldwide for healthcare services (2020)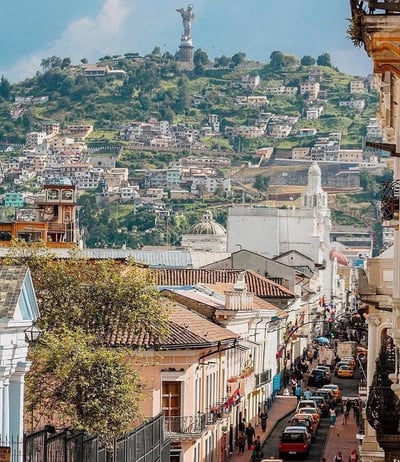 Photo cred Instagram: La Cuidad de Quito, Ecuador - #randy_billy_photography
So if "the land of the eternal spring" sounds enticing, it's Cuenca. A picturesque, inland city in the southern Andean Highlands. The weather is a significant draw card for expats who want to avoid extreme heat and humidity or cooler conditions. It's bustling with activity and has much to offer the ever growing community of around 4,000 expats. Total population 70,000 'cuencans'. The vibe of Cuenca is bouncing with art, music and entertainment. There's an exceptional nightlife, bar and restaurant scene with a laid back Bohemian vibe. An apartment in Cuenca per square meter is $1,200 and condos will set you back between $60,000 - $100,000.
For those who are lured by calls of a jungle paradise, there lies a rather enchanting hidden gem in the southern region Loja Province called Vilcabamba. This has been dubbed the 'Valley of Longevity' due to the extended life expectancy claims by locals. Fresh, crisp mountain air, lush, fertile lands, sacred trees, mineral rich soils and pure water cascading from the Andean peaks. Vilcambamba is a colonial mountain town with delicious coffee and a vibrant music scene. It's in close proximity to the Amazon rainforest and the weather is almost perfect all year-round. Median price per square meter is $1.094 and property prices range between $85,000 - $200,000. It's easy to see why Vilcambaba is fast becoming an expat and investor hot-spot.
Photo cred Instagram: Mountainside Vilcambaba, Loja, Ecuador - #sweetconcious
Living the dream for me, has always been taking in the sun, salty-air and sand between my toes. So, I'll focus on two stand-out locations I've visited recently, Canoa and Salinas. Canoa is not currently first place on the 'well-known' list for investors or retirees, but the real beauty lies in its gradual development. While still a popular tourist destination, it's far from being overrun with, you know, tourists. With only 19,000 'caton's' it's said that only 500 of those are expats. It's located on Ecuador's Northwest Coast, in the province of Sucre, Manabi. Here you'll find a peaceful, rustic fishing community. With a 17 km stretch of pristine beachfront and prime offerings in surf, adventure and relaxation activities. Although, it's currently lacking the same level of city-like amenities. Canoa is set to become the next 'Gold Coast' development hot- spot and for expats seeking to build investment properties or retirees looking for a peaceful laid back lifestyle - it's a residential market poised for the taking. With the median price per square meter at $1,048 and properties selling for $70,000 - $100,000. Now, I'm talking 1,000 square meter beachfront lots ready for development at $80,000. This is a rare opportunity that should not be overlooked.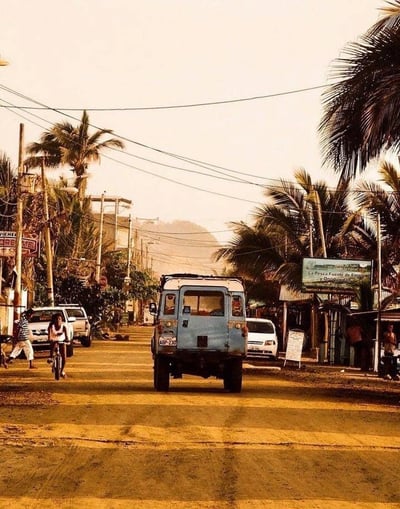 Photo cred Instagram: La vida en Canoa, Ecuador - #Lauraalycebell
Salinas, a high vibing, beautiful little coastal town which has been dubbed 'Little Miami', it lies on the western tip of Ecuador's Santa Elena province, you can fly direct from Quito. There is a favorable surf break for beginners or intermediates, yoga, water and beach sports, nightlife, restaurants and karaoke bars - it's perfectly geared for extreme tourism. This is where the local Ecuadorian community flocks for weekends and holidays, many of which own beachfront vacation properties. With a population of approximately 60,000 year-round residents, it's said that only 1000 make-up the expat community, mainly from the USA and Canada. Median price per square meter is $1,134 and property ranges from $50,000 - $200,000. On the lower end of this scale you'll find well maintained condos, a few blocks from the beach. For a mere $70,000 you can find a 4-bedroom home with spectacular city views. Mid range would be for those wishing to secure a brand new 4-bedroom or family home in a modest gated community, just a stone throw from the beach for around $120,000. Or with an investment of $200,000 you're right in the central zone, taking advantage of brand-new beachfront developments featuring high-end amenities and high rental yields. Salinas typically sees very little rainfall, and the high season is blessed with sunny, bright blues. But the off-season can be rather dull and cloudy.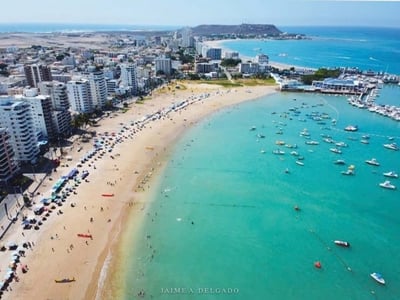 Photo cred Instagram: Little Miami, Salinas, Ecuador - #jaime.a.delgado
Be aware that Salinas is a seasonal location and not only will investment returns fluctuate to the demand, so will the vibrancy of the town. Peak season generally runs December to April and this is most likely the reason the expat numbers remain low, if you ask me - it sounds like paradise.
What Every Ecuador Real Estate Buyer Should Know
Ecuadorians love to negotiate, it's like a game to them. Make sure you haggle on price and don't be afraid to put in a low ball offer, they're expecting it. The best deals are found directly from the sellers and word of mouth, I can't stress this enough. You can find incredible prices on properties which are not even listed on the market, so it really pays to spend time in the area and get to know the locals.
If your property is valued at $40k and over; that is the tax assessed value, not necessarily the purchase price of the property, then you are eligible for a New Investors Visa. This new visa (introduced 2019) will give you the same benefits as a Retirement Visa, but also allows you to come and go from Ecuador as you please, without being required to stay 9 months of the year. So, this is great news if you haven't quite reached retirement age. Although just be aware that your visa will be tied up with the property, so if you sell, you will lose your residency status.
This new investors visa is also available for anyone who wants to deposit $40,000 into an Ecuadorian Bank Certificate of Deposit (Ecuadorian CD) for 2 years, while still earning a nice 6-9% interest return pa. After the 2 years, you're welcome to draw the funds and apply for Permanent Residence.
Buying restrictions?
There are no restrictions on foreign investment in Ecuador. In fact anyone, regardless of status, can purchase land, technically you don't even need to be in the country at the time of purchase.
Like many Latin countries, Ecuador has designated National Security Areas, this protects land within 50 km of any national border or coastline. Consequently, development in these zones is prohibited. There are also protected indigenous lands called tierras communales or communal lands, these are generally found within the highlands and some coastal regions, but cannot be legally bought or sold.
Be sure to engage with a buyer's attorney to execute a thorough 'Title Search' to verify the land ownership.
Foreigners who are buying their first property in Ecuador are locked out of the domestic mortgage market. If you are planning to purchase property in Ecuador, plan on paying cash or looking for the occasional seller who is willing to hold a debt note.
Title Issues
Foreign investors hear warnings about problems with corruption and gaining protection for property rights from the local court system, which has at times been complicated or unsatisfactory. The past issues have mainly circled around people selling property and land which does not have legal title. Provided you practice your due diligence, these issues can be easily avoided. Either enlist the services of a professional 'buyer's attorney' in most cases if you're dealing with a real estate agent, they've usually been endorsed by the seller, so don't pop your fingers into the same pie, find an independent agent or attorney to conduct a thorough search on the land title. If you are purchasing under a full, clean bill of title; you are looking for a document of 'Escritura Pública' Public Deed'.
Purchase Process
Below is a review of some common terms and the outline procedure.
Certificate of liens - which has the property description, the owners, chain of title, any prohibitions, debts, or restrictions.
Acciones y derechos or Actions and rights - this means the property can legally be bought and sold, but it usually hasn't met the legal requirements from the government, which gives you the escritura pública.
Promesa de compraventa or Purchase agreement - Once an offer is accepted and the terms agreed upon, a legal and notarized sales agreement outlines the sales price, amount of deposit, closing date, length of term and or installments, as well as breakdown of the closing costs, between the seller/agent and buyer/agent.
Escrow is a foreign concept that is not common here, so deposits and payments will be paid directly to the seller.
Generally, after you conduct a title search, you will pay the appropriate taxes and fees for the documents to be transferred and notarized. Once full payment of property has been exchanged, you will usually wait a further 6-7 days for the paperwork to be registered. Then you will receive the final deed/title.
The final step is signing the deed in front of a Notary and transferring the new Title at the Property Register. To legally participate in this process you need be fluent in Spanish or hire a bi-lingual representative / attorney to translate the proceedings. There are plenty of companies and services offered within the country and many available within the Province Registration Offices.
Ecuador Title Insurance
Title insurance is available in Ecuador through foreign insurance companies. However, it's rather uncommon and most people choose to "self-insure" rather than purchasing the insurance. What you will want to ensure, is that you receive a guarantee in writing from the selling agent and this acts as legal intent.
Property Tax Registration
Although everything is subject to negotiation, in Ecuador closing costs are generally the responsibility of the buyer. This includes legal fees, notary fees, transfer tax and property register fees. The seller is typically responsible for any commissions or capital gains tax incurred. Property sales taxes in Ecuador are some of the lowest in Latin America. Taxes are assessed at a rate of .1% or $1 per $1000 of the assessed value.
The capital gains tax in Ecuador is the responsibility of the seller. It equates 10% of value between the purchase price to the sale price. If you have owned the property for 5 years or more you receive a 5% discount per year for the length of ownership.
The Cost of Closing a Real Estate Deal in Ecuador
Lien certificate: $7 per property title, the process takes 6 business days.
Income tax: 5% of the value of the property.
Property registration: .1% or $1 per $1000 of the assessed value
Sales tax: 1% on the value of the property
The commission agent generally: 6% - 8% of purchase price
Transfer Tax: 1.1% of the sales price or value price, whichever is higher
Notary Fees: these are a sliding scale based on the overall sale price.
As an example, on a $100,000 property, you would expect to pay around $520.
Property Register Fee: Is on a sliding scale for $1000,000 you can expect to pay around $150
Documentary stamps
Deeds must bear stamps, signed by both guarantor and grantee and recorded in the Registry of Properties, which can be found at any Province Capital.
Notary fees
Generally, you pay the notary at the conclusion of the notarization. The fee generally runs between $50 and $100 and any additional cost for required documents. Most notary offices will require the payment in cash.
Retiree Discounts
In general, Senior citizens receive discounts on services which can equate to around $200 per month, with receipts. There are ample benefits to take advantage of if you fall into this bracket available on both sides of buying and selling.
The government health insurance, IESS, costs about $75/month.
You can receive discounts on expenses or improvements to the property, make sure you keep all receipts.
You can apply for a 90% exemption on the capital gains tax
Finally, there is the specific Pensioner Visa or Retirement Visa Pensionado or Jubilado. Requirements to this visa were recently changed, reducing the monthly income required from $800 p/m to just $400 p/m. This is the most popular type of visa for retired expats wanting to spend their golden years in Ecuador. You will need to satisfy that you receive a guaranteed 'income for life' satisfied via regular social security checks, although it is not limited to this income source only. It may include income from pensions, annuities, superannuation etc. If you are using social security, then you'll need to obtain an official letter from the Social Security Administration. This also needs to be signed and notarized.
These benefits make Ecuador one of the more expat-friendly destinations for retirees wanting to maximize their social security and live out their dreams but in the democracy index, Ecuador is significantly below Costa Rica or Panama.
Right now, we're approaching a year since the initial extreme border closures and travel bans were in place. Latin American countries were among the first to initiate strict border closures. Ecuador has been re-opened for tourism since 1st June 2021, requiring proof of a PCR test within 72 hours of arrival. Land borders between Peru and Colombia remain closed. Check with the Travel Smart Global website for updates to current conditions and travel restrictions.