Panama
As a 30'something expat, when you think of Panama - you think, San Blas Islands, turquoise waters, coconuts, rum, boat parties and the Panama Canal. But, you also think - Retirement Haven.. or was it Tax Haven.. hmm. Well, either way there's a good reason for that. I want to delve deeper into the grand 'Panama Retirement Dream' because Panama is after all considered to offer one of the best retirement programs in the world. And let's face it, we're all going to be there one day, seeking a great retirement destination.
Now it's already a popular destination, in fact half of the 30,000 expats currently in Panama are retirees. Many people choose Panama for the weather and ease of living, although it's not as cheap as it used to be.
There are many who are reaching the golden years who don't plan to waste away on a hand-to-mouth pension in an albeit well manicured, but stale aging community. Those who instead intend to follow the road less traveled, Panama is worth a look. Moving to a foreign country is exhilarating, learning a new language while exploring up and down river inlets, along coasts and vast countryside. With visions of laid-back sunny afternoons tasting delicious fresh seafood or authentic cuisine, along-side some new Panamanian local or expat friends. What's it really like to retire in Panama?
The Miraflores Locks on the Panama Canal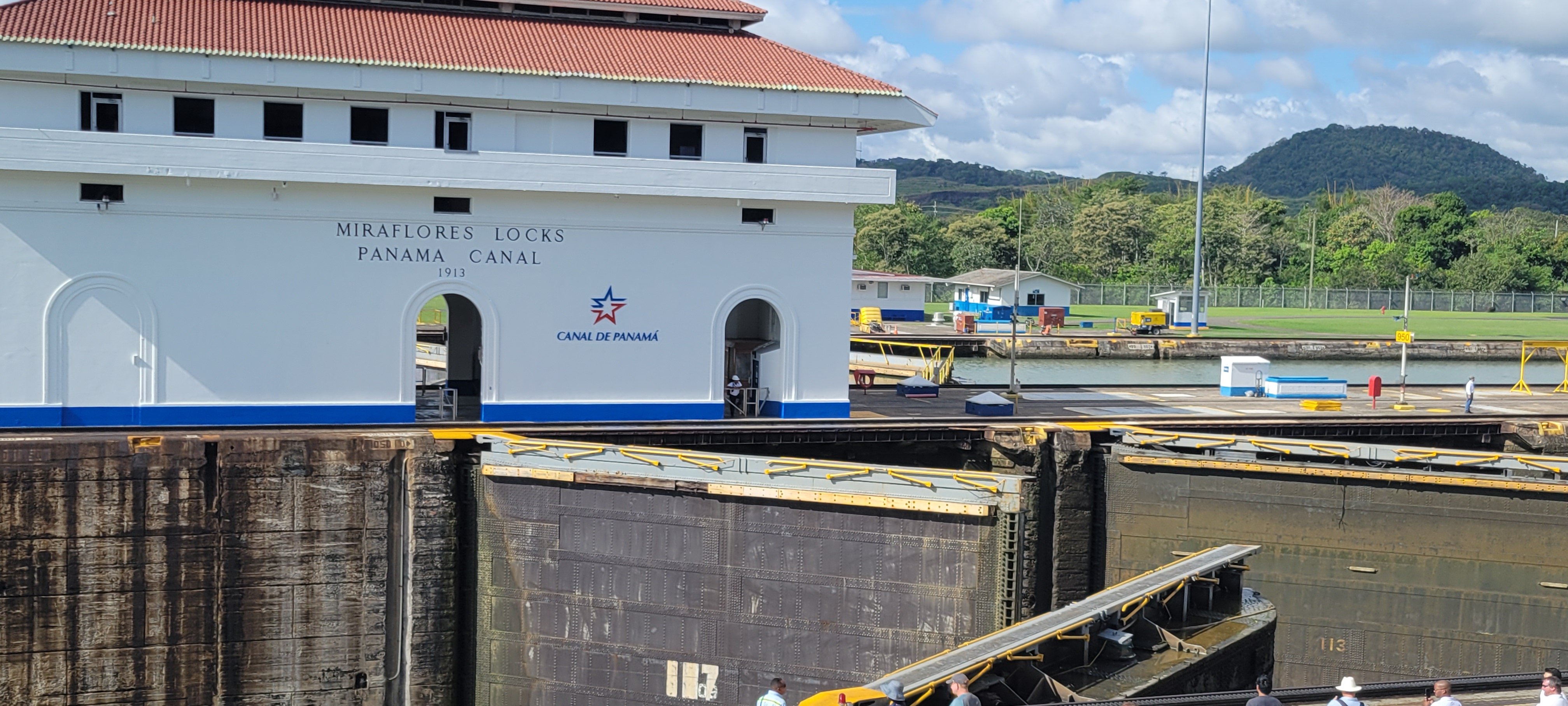 Country Overview
Panama is one of the world's crucial crossroads, an isthmus linking Central and South America. It has a lush, rugged landscape laced by nearly 500 rivers, twisting highland streams and a bounty of 1,000 islands. The climate is consistently hot and humid throughout the year, with lows of 75 °F and often exceeding 90 °F with lots of tropical appeal. The rainy season is from April to December -- and can bring between 50 and 100 inches of rainfall.
It has long attracted people from many countries and cultures. The United States government maintained a substantial presence in the country until December 31, 1999, when the contract ended and it handed over ownership and control of the Canal to Panama. The American influence can still be sensed, although today much of the American population is made up of investors and retirees who are attracted by Panama's substantial financial incentives for both retirees and foreigners. There is strong US assistance with Panama aiming to ensure it remains a secure, prosperous and democratic country, working together to advance common interests and improve residents safety. Therefore Panama is deemed to be one of the safer countries to live in Latin America.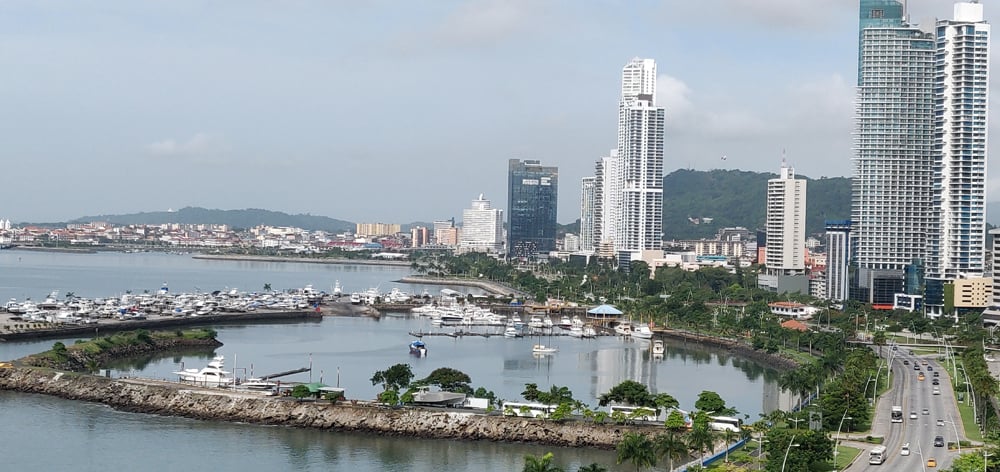 Balboa Avenue along the waterfront of Panama City
Panamanians have never particularly identified with the rest of Central America, nor that it much considered itself like Colombia either, but it does have an undeniable sultry South American vibe. There is a considerable indigenous population and plenty of cultural activities for those expats looking for a pleasing mix. Despite the American influence on Panama, English is not commonly spoken, and knowing Spanish is important for expats to communicate and negotiate. Panama uses the US dollar for currency, so you won't have to worry about paying conversion fees when transferring money.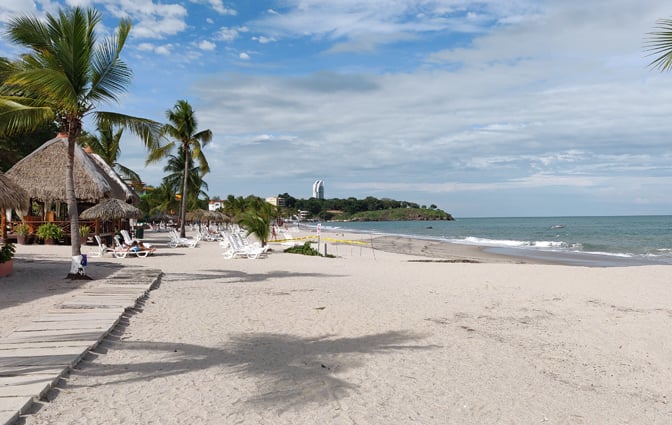 Rio Hato - Playa Blanca Panama
Panama has become a popular destination for foreign investment due to its stable political environment, pro-business government, rising real estate market, and growing economy. It's considered the financial capital of Latin America and there'[s an amazing array of foreign banks. Despite all the benefits, Panama is far from the most inexpensive place to live in Latin America. For example, the cost of living can be anywhere between $1,500 - $5,000 per month, depending on your lifestyle. This is a wide scope keeping in mind that the location you choose to live has a strong impact on living costs. As a reference, to employ a full time live-in cook or house-cleaner, it's around $60 per week, the median price for basic utilities $90 p/m, phone and internet plan $50 p/m and cable TV $50 p/m. On average, expect to pay $3 for a quality cup of coffee, $1.50 for a litre of milk and enjoy a night-out on the town for $100.
According to the latest numbeo stats when comparing living costs of Panama City and Miami, Florida. Consumer prices in Panama are 25% lower, consumer prices including rents are 37% lower. But, you will find rental prices in Panama City are a sweet 56% lower than Miami. Restaurant and grocery prices are between 20-25% cheaper. Panama Health Insurance is less than $500 a month for global coverage compared to almost $1,500 in the States
It's also worth considering that although Panama City is a major metropolis, the country itself is still developing and not yet a first-world nation. Traffic comes to a standstill most days during rush hour and as to city cleanliness, well, it's a little lackluster. Still, it has one of the fastest developing economies in the world and does not suffer the same levels of poverty that exist in most other Latin American countries. The canal zone is a fascinating destination, but unfortunately, the horde of ships traveling through it each day, have grossly polluted much of the waters surrounding the Capital area. Panamanians would never think of swimming in the ocean around Panama City. Another interesting phenomena is that while most Latin countries have a majority of foreigners and tourists visiting and living throughout the country, Panama has the majority living in Panama City. In fact once you leave the city, you might be hard pressed to find decent tourism infrastructure outside of a few known locations like Boquete, Bocas del Toro, Chitre and Playa Blanca.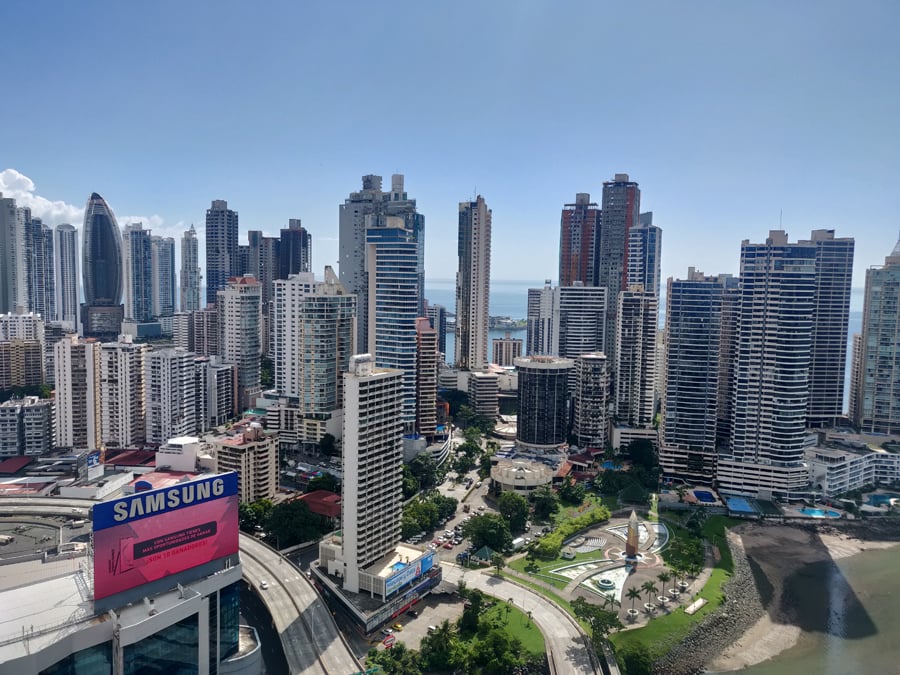 Panama City has an amazing skyline
Facts and Figures current
Data sourced numbeo.com - (2021) & statista.com (2019)
Quality of life index: 110.81
Panama's population was 4.3 million in 2021
The rate of intentional homicides is 11.2 per 100,000 people
Crime index Panama city: 46.75 (2021 numbeo.com) versus Miami: 53.92
Political Instability Index: 0.03 (2019) for comparison, the world average is 0.00
Quality of Life index : is considered HIGH at 110.80
Life expectancy rate: women 78 years
Median age: combined 29.7 yrs
Cost of living Index: Panama, 54%, Costa Rica, 50%, Ecuador, 40% compared with US at 80%
Spanish is the official language of Panama
The majority of expats in Panama are retirees thanks to the country's pensionado program
Panama tourist visa, Americans will receive a 90-day tourist card, which can be extended to a 180-day tourist card.
Flying to Panama
Copa, American Airlines, and Avianca are the most popular airlines when flying from the USA to Panama. You can find many direct flights with United, Copa, Spirit and Delta.
Price of a round-trip flight to Panama:
From New York: $625 (Expedia), $650 (American Airlines)
From Los Angeles: $507 (Expedia), $739 (American Airlines)
From Miami: $246 (Expedia), $208 (Copa)
The price to rent an economy car in Panama City is between $16 - $35 per day
Travelling to Panama with pets
There are no restrictions on traveling or bringing pets to Panama, just quite a few hoops to jump through. In summary, first contact your airline to find out about any individual costs or requirements and then make a few trips to a licensed veterinarian. You will need to have all the up-to-date vaccinations 30 days prior to your departure. Make another visit to receive the required health certificates and this must be dated no more than 10 days prior to your departure. The certificates include: The health certificate, other vaccinations certificate, Rabies certificate and Certificate of Origin for your pet. Post one copy of the documents to the USDA with a pre-paid envelope addressed to the Panama Consulate. Send the other copy directly to the Panama Consulate with a reply-paid envelope with your home address and the $120 processing fee. The approved USDA documents will be sent to the Panama Consulate, they will apostle them and return them to your home in the pre-paid envelope provided. This process usually takes 5-7 days. If you have any concerns, contact the Panama Consulate to ensure receipt. Then, 5 days prior to your arrival, complete the home quarantine form and send it to the Ministry of Health Authorities.
Finding Paradise
Namely, there are considerable well-known retirement areas through-out Panama. You will find some retirees in Panama City, although it's mainly a higher number of younger expats found. Boquete and Bocas del Toro are by far the most popular.
Boquete is located 60 km from the Costa Rican border. With 20,000 total residents, almost half of that population comprise the expat community. It's simple living in Boquete, with beautiful mountain-scapes, community activities, markets, restaurants, bars and outdoor activities. Prices are reasonable, with apartment rentals starting from $600 per month to high end homes at $2,000 per month. Average price per square meter outside of the city according to latest numbeo stats is around $400 and $715 per square meter within the city centre.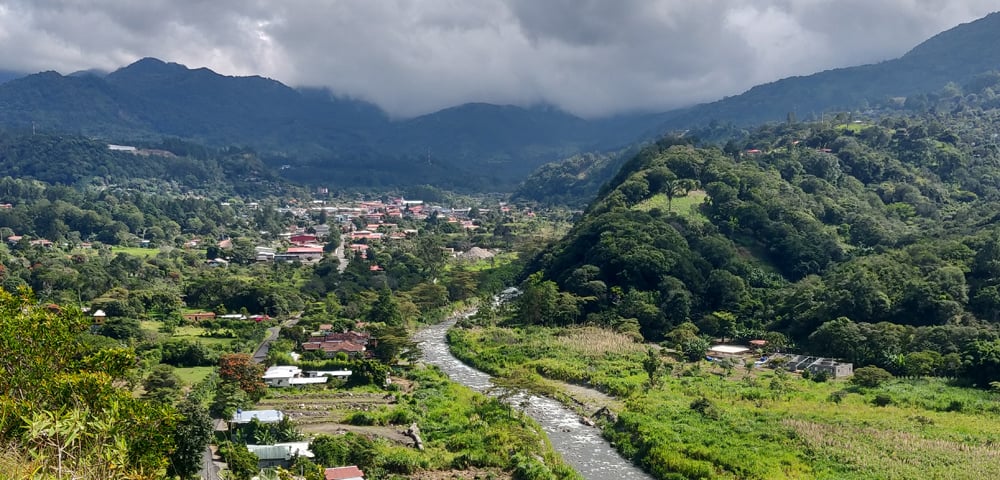 Boquete is almost like a Colorado Mountain town
Bocas del Toro, the collection of islands located off the northwest, Caribbean coast of Panama, near the Costa Rican border, includes seven islands which make up a breathtaking archipelago. This beachside paradise offers everything for the tourist adventure-seekers, rich biodiversity and laid back lifestyle. Bocas del Toro maintains a lower cost of living, 2-bed condo rentals $500 per month to 3 bedroom homes for under $1,000 per month. Buying your own apartments Bocas will set you back anywhere between $70,000 - $200,000 and homes start from $180,000. There is an issue getting title to properties in Bocas with most properties sold as "right of possession". That keeps investors away.
David is in the western Panama Highlands, the capital city of the province of Chiriquí and the second largest city in Panama. The temperature in David is a bit warmer than Boquete, being at lower elevation. It's an excellent location for those who enjoy city life on a budget. David lacks the history, culture, museums, cathedrals and parks you'd find in Panama City but the city is gaining popularity. Schools, Colleges, quality hospital facilities, relaxed cafes and some vibrant nightlife can be found but it's no Panama City. You can find nearly everything you'd expect to find in a bustling expat city as well as a decent airport with reliable service to Panama City. it's quite a drive from Panama City to David, about 6 hours without traffic. Rentals in the city centre for condos range between $300 per week and homes for $600 per week. Median property prices sit between $800 - $1,200 per square meter. If you're looking to buy, median house prices are $200,000 for 2-3 bedroom homes.
Chitré is located about 7 km inland from the Gulf of Panama on the Azuero Peninsula, it's the south-centre and often referred to as the heartland of the country. With celebrated architecture, rich culture and a long tradition of farming and fishing. Chitré has virtually all the amenities of a big city, including local and international restaurants, hotels, banks, stores, strip malls, medical facilities and quality internet and telecommunications networks. You'll find here, an abundance of sleek, brand new gated community projects with apartments for under $125,000 or houses for under $250,000.
Casco Viejo, only 10 minutes outside of Panama City Centre, is also known as San Felipe and is referred to as the 'old heart' of the city. Restoration efforts have been underway for years which are giving the old city a much-needed facelift, creating a safer, more appealing haven and it feels worlds away from the mayhem of the city. There is a hip and lively dining and nightlife scene, loads of trendy cocktail bars, rooftop clubs, global restaurants and Colonial landmarks. Boutique hotels, hostels and apartment buildings are thriving inside exquisite, refurbished, Spanish-colonial buildings. Median rental prices for a condo range between $800 - $2,000 per month. You will find median house prices around $200,000 and a range $1,500 - $2,700 when considering the price per square meter. When contemplating the cosmopolitan of Panama City, you will find comparable rental prices to Casco Viejo, however the price per square meter is a little higher at $1,600 - $2,300. When discussing houses, it is likely to start at around $300,000 to buy your own home in the City Centre.
Location caption: Casco Viejo is like a walk back in time
Two hours south of Panama City, you won't want to miss the quiet but far from sleepy little town of Playa Blanca. This is your golden guarantee for luxury hotels, all-inclusive resorts, beautiful beaches and fun-in-the-sun capturing all of your favorite on and off the water activities. A vibrant nightclub, restaurant and bar scene while still maintaining a safe, and secure, family friendly vibe. You'll find apartments for sale from $100,000 up to $500,000 offering ample up-scale community and resort-living options. Playa Blanca is the ideal place for nature lovers, flaunting exotic wildlife, natural lagoons and peaceful rainforest trails. This area is part and parcel to a retirement dream or solid investment plan, offering high rental yields. It's a good location to take day trips to the Valle de Anton, Santa Fe and Altos de Maria. The mountain highlands have some great little tourist gems to discover just driving to nowhere.
What Every Panama Real Estate Buyer Should Know
A few general words of warning for those considering investing in Panama. It's common for the prices to vary significantly between foreigners and Panamanians. Therefore, if you want to avoid paying 'gringo prices' it will be an advantage to understand the language, do some thorough research on the area, make some friends, talk to the locals. Enlist the services of someone that can act on your behalf, get second opinions on everything and even speak directly with the seller. Hire someone that has an unbiased interest in the deal, as there have been reports in the past of Panamanian Real Estate Agents asking for more than sale price, without the owners knowing and then pocketing the extra, plus the commission. Just take general care, it's not like buying property in the States.
There are many banks which are offering financing options to foreigners. According to Panama Offshore Services, there is a law called the preferential interest law, which offers low and partially subsidized interest rates for first home buyers on new residential properties up to $120,000.
Buying restrictions?
There are no restrictions on foreign property ownership, the only common restriction is a National Code which prohibits foreigners to own land located less than 10 km from a border or on the islands under the jurisdiction of Panama. There are numerous financial institutions who specialize in directing U.S Citizens' retirement funds into self managed accounts that will allow you to purchase property or invest. Panama encourages long-term foreign investment and offers an exceptional, retiree incentive program.
Title Issues
Not all properties are subject to registry according to the Public Registry Office, which means they do not possess title. According to the Global Property Guide, many beachfront, island and special tourist zones such as Bocas Del Toro and Portobelo are owned and managed by the local municipalities and will only grant 'possession rights' over these properties. The main difference between the two being that - titled property can be mortgaged, whereas possession-rights only properties cannot.
Purchase Process
Below is a review of some common terms and the outline procedure
Complete a total review of the land or property including a title search, review of cadastral maps, verify that there are no outstanding debts or other encumbrances attached. It's best to have this completed by a qualified agent.
If you enter into a 'Promise To Purchase Agreement' with the seller/agent, this will give you sufficient time to complete your due diligence and obtain/secure any financing. You must have the Prometa de Compraventa recorded at a Public Registry.
Perhaps, you will go directly into a 'Purchase and Sale Agreement' or Promesa de Compraventa, which outlines the sales price, amount of deposit, closing date, length of term and or installments, as well as breakdown of the closing costs, between the seller/agent and buyer/agent. These are fairly common when buying one of the highrise developments in and around Panama City.
The final step is to have the public deed notarized at the Public Registry Office and this will complete the transfer of title/deed or an 'Escritura Pública'
Escrow services are relatively new to Panama. Generally, full payment is transferred when ownership has been registered. In some cases, parties agree to execute an escrow agent to hold funds and release the transfer on presentation of the deed.
The whole process of registering a property can take around 22 days to complete.
Panama Title Insurance
Panama title insurance protects buyers by insuring that the title has no disputes, no encumbrances, no liens or issues attached to the property. Generally, title insurance costs around 1% of the total value of the property. Panama has many title insurance companies, which are from the United States and offer comparable services that you would find at home.
The Cost of Closing a Real Estate Deal in Panama
Generally, in Panama each party is responsible to pay their own closing costs, they may represent approximately 2% of the total sales value.
Closing costs for a buyer may include:
A legal property transaction fee in the amount of $1,200 USD.
Public registry title transfer fee of $250 - $350
Notary fees $200 - $300 depending on the sale value
Closing costs a seller must consider:
Real Estate Commission which is generally 5%
Property Transfer Tax is approx 2% of the sales price or land value, whichever is higher.
Capital Gains Tax is approx 3% of the sales price or land value, whichever is higher.
Property taxes are only levied on properties that have a registered value of US$30,000 or more. The maximum annual property tax is 2.1% for any property valued above $75,000
Notary fees
There are notary services available country wide, find the Registry Offices located in your closest major city. There are also U.S Embassy services available. All individuals needing notary services will need to make an appointment online. Fees are generally around $50 per visit.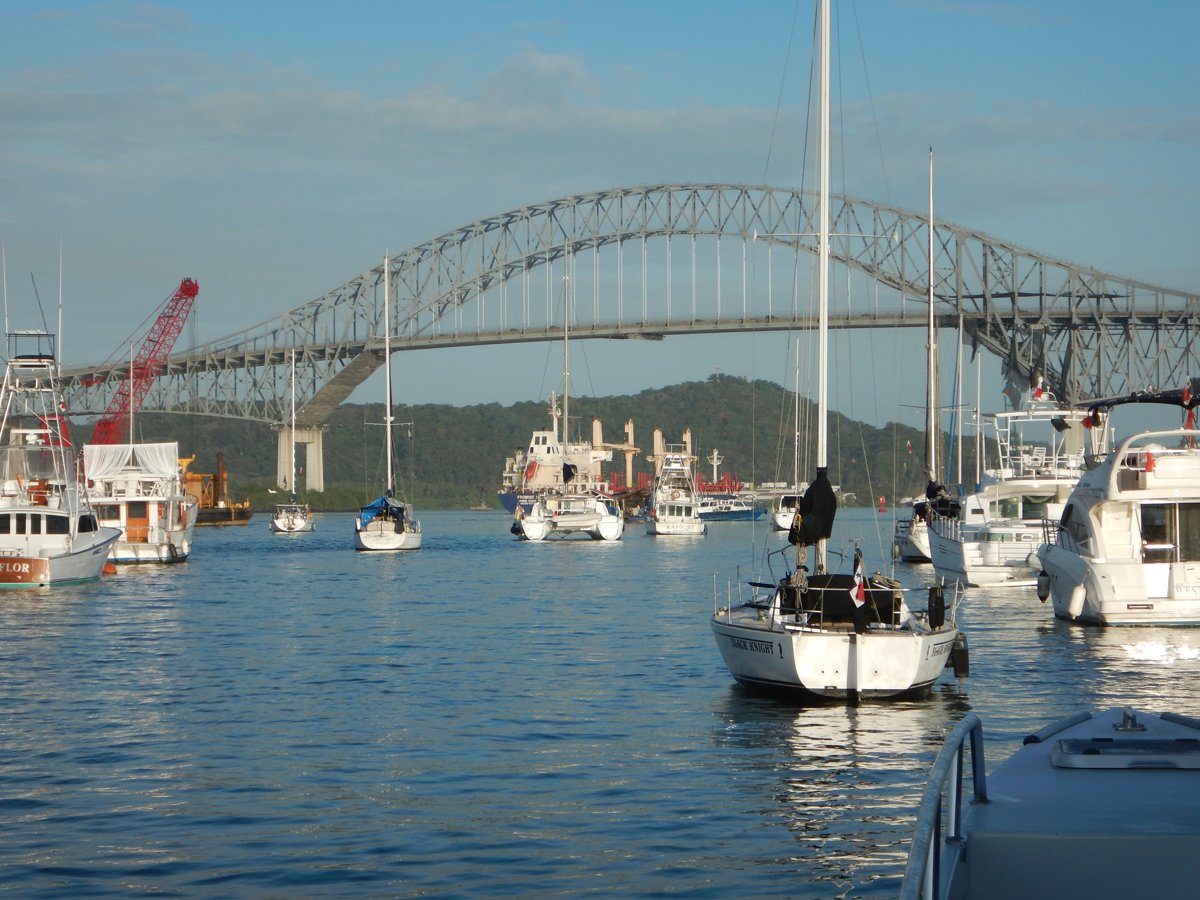 The Bridge of the Americas at the western entrance to the Panama Canal
Retiree benefits
Panama actively boasts to retirees that it offers one of the best senior citizen discount programs in the world available for both foreigners and Panamanians. Including 50% discounts on entertainment, 25% discounts on restaurants, airfares and energy bills, 15-20% discounts on health care and other benefits. Foreign income is not taxed in Panama and foreigners have equal rights to property ownership as Panamanians.
There are two easy ways to come to Panama to gain legal residency – if you purchase a house outright for at least $200,000 mortgage free, or if you can prove to have a minimum 'lifetime' income of $1000 a month you will be granted a residency visa. These aren't the only ways to become a resident, but they might be the most straightforward. Once again, there are ample benefits, incentives and tax exemptions on both sides of the buying and selling process for retired expats. You will have to apply for residency, a somewhat cumbersome process and we recommend you find a qualified attorney with residency experience.
The current conditions in Panama according to the National Housing and Human Settlement Commission (Convivienda), was the steady rise of housing demand in Panama finishing strong up at 30% in 2019. Although, in light of global effects from the pandemic, the market has been affected, with house sales and residential construction activity both declining. Property prices have fallen in most major cities even though foreign buyers have been responsible for buoying the housing market in recent years, pushing prices up to 5% to 10%. Foreign investment may be a heavily relied upon source in order to maintain the market in the coming post-pandemic climate.
Deforestation in the Darien Jungle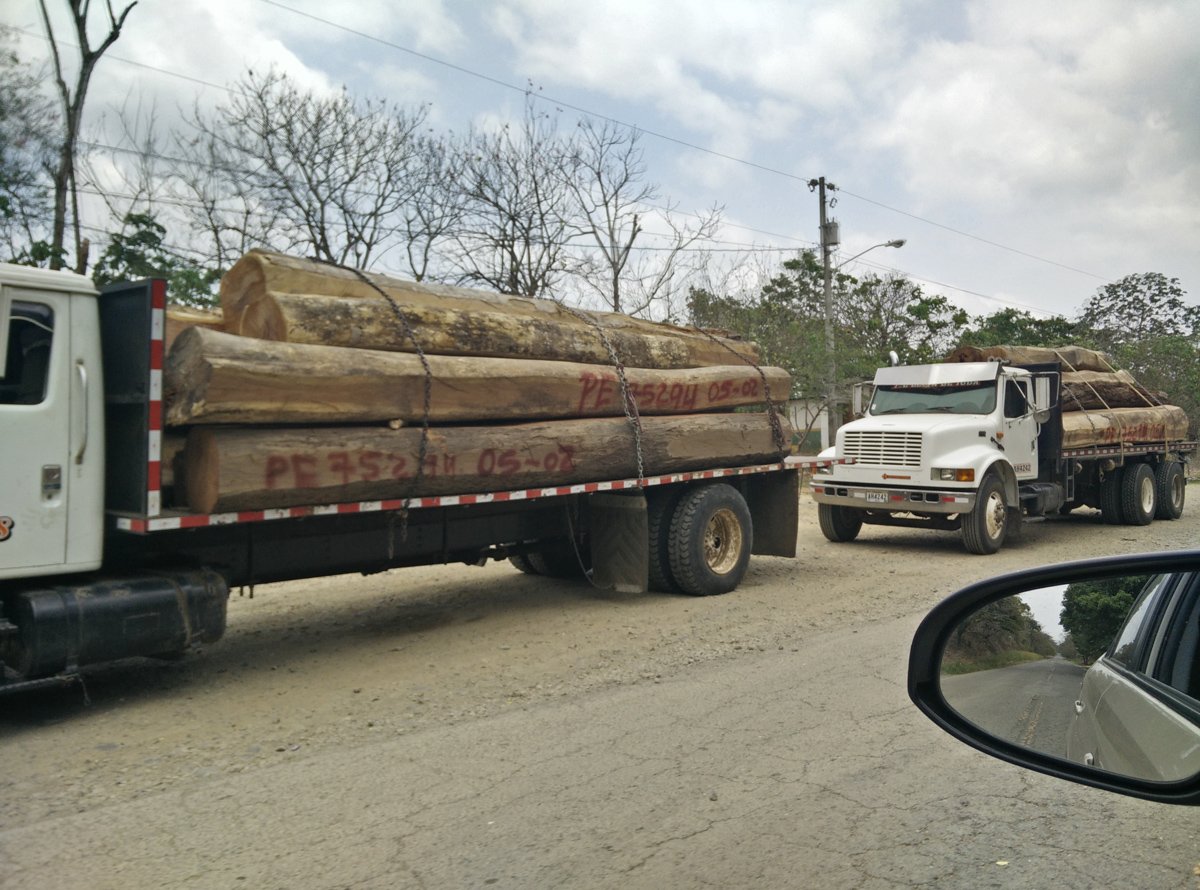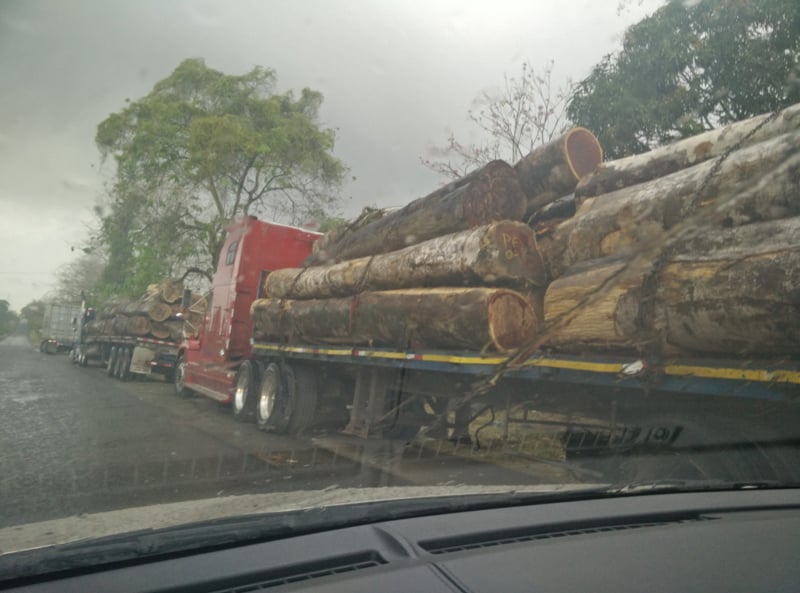 One thing that troubled me was deforestation. I've led tours throughout Panama for years and continue to see deforestation taking place. On a trip a few years back, I drove into the Darien rain forest. I was advised by the military check point that it would be dangerous to continue, but I went anyway. What I saw were large mills being operated by Chinese nationals, tearing down legacy timber. I tried to speak to one of the mill owners but he rushed at me and told me to leave.