Are there families with Children? There are families who have moved with children to Costa Rica but not as many as you would find in the general population in the states since families at that age and stage of their lives when they are having kids often don't have the desire, money or both to leave their safety net of friends and family. The ones who have moved into our town are very close knit and have frequent get togethers. They typically all go together to the weekends often going to the beach on Sunday. They will do things like hire a surf instructor to keep the kids busy, have a picnic or barbecue or play soccer or volley ball.
What activities are available for children? Costa Rica does not have the same level or types of activities as the states. You won't find a bowling alley or arcade nearby. For us adults, we do have a new golf course opening this year just a few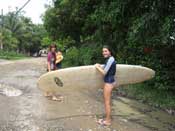 miles south of us and there are plenty of bars and restaurants. For the kids, we do have good old fashioned activities, the kind that kept us in shape when we were growing up. The kids in our town swim in the rivers and waterfalls, horse back ride, ride ATV's, hike, grow fruits and vegetables, catch bugs and butterflies, kayak, play soccer, swim in the pool, play at the beach, surf, go fishing in fresh and salt water, make a dam in the river and things like that. There is less TV watching and video games although that is still an activity here. While we do have a small playground in our developments, in reality it is rarely used. The great outdoors offers much more attractive activities and the kids in town seem to prefer swimming in the river or playing soccer to going to the playground.
Where would I stay with children? If you want to come visit for a while, we have a number of hotels in town we recommend that are good for families. One is the http://www.villasgaia.com/ where the rooms are cabins, suitable for the whole family with multiple beds, rates are around a $100 per night and include breakfast. They have a nice pool, good restaurant that stays open late and a great hiking trail that leads across the mangroves to the ocean that is always full of wildlife, monkeys, hawks, parrots, toucans, macaws. The rooms have AC but I don't think they have TV. They offer tours to many tourist attractions, zip lines, river tours, dolphin and whale watching, kayak tours, white water rafting, horseback, nature walks, waterfall tours, hang gliding, etc. Unfortunately we do not allow children under 12 at our guest house visit property tours. Just put them in the kennel for the weekend.
Another popular hotel is the http://www.elbuenavista.com/ which is my preference however it sits on top of a knife edge ridge which leaves a few places around the hotel where kids need to be careful or they could tumble down the hill. They have both rooms with kitchenette in the $75 per night range and family rooms with 2 queens. There is no TV and no AC but the views are great of both the mountains and ocean and we regularly see large flocks of parrots as well as pairs of macaws and toucans. The rate includes breakfast but have no restaurant but we have some great restaurants in the village as well as a good grocery store.
We are a village, not a city. What we have is a much greater sense of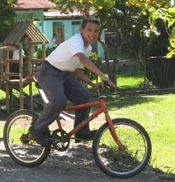 community. On every other Sunday we have a pot luck brunch that rotates from house to house and typically gets upward of 50 people. We often have poker night for the guys, a women's club with over 400 members that plans regular activities and Pizza night at the local pizza shop on Saturday that is also a popular event. Many of the bars and restaurants have regular events and parties, though these are typically aimed more at adults. We have a small library, a bull ring for our annual bull riding and events like community yard sales, recycling and soccer challenges.
Who are these people? The families with kids get together often and although life is different here than in the US, it is in many ways much better. So the families we have are what I would call "life style changers". People who wanted a different way to bring their kids up, a greater sense of community where they know their neighbors, for their kids to learn Spanish and become multi cultural. This lifestyle is not for everyone.
Where do they go to school? Most send their kids to the "international school" in Uvita, the next town up from us. Some send their kits to San Isidro to boarding school (about an hour away) where they stay for the week and return on the weekends. We also have some that home school their children. We have a brand new school opening in January 2010 that already has 50 students enrolled. There is daily bus service to a large school in Cortez that comes through town and drops off in the afternoon where many people send their children. We do have a school in Ojochal but it lacks good curriculum.
What about shopping, movies, etc? We do have ample shopping, malls, movies, etc but you may have to drive an hour to get there. The movies we have in town are "movies in the jungle" where someone has a big screen in their back yard and they project the movie onto the screen with a DLP projector and everyone sits under the stars. The hosts serve cocktails and popcorn, etc. We also have parties hosted by local restaurants once or twice a month. We are also about 25 minutes south of Dominical, a surf town that gets local live music and has a nightlife scene better than ours. Nearly everyone has DSL, Vonage or Magic Jack phone systems to call internationally, satellite TV with hundreds of English channels as well as music channels. The world is changing and technology is making instant downloadable movies and streaming movies available worldwide.
Why did we choose the area? The appealing thing to my wife and I and the reason we picked this part of Costa Rica over the other places we visited was the sense of community, the friendliness of the people, healthcare accessibility, the cost of living and the accessibility and low cost of airfare (2.5 hour flight from Florida and typically costing about $225 round trip). With American, Delta, Continental, US Air, United, Spirit, Jet Blue and Frontier all flying there daily, airfare and flight choices are easy and affordable. We also believe that in the next 5 years this area will become the most sought after part of Costa Rica. Having traveled to many places on the planet that become very popular and expensive, we have come to realize what attributes make an area attractive. This area is just now being discovered, just now becoming accessible and we already see it becoming a very popular destination for North Americans. We wanted to put some international assets into our portfolio and what better way than owning real property. We've done well in our real estate investments in the past and think this one is a winner. As we continue to watch the decline in the value of the dollar, we're happy to be holding assets outside the US. Come see for yourself before the good lots are all gone.
How can I visit? We are not an 80 acre development or even a 500 acre development. Our projects spread over 3200 acres in 15 phases with both estate and community developments, gated and non gated. If you are thinking about living anywhere out of the country, you should make an informed decision. If you decide you want to com for a visit, we can discuss your options in touring our developments since it really takes a few days to really get a feel for what we offer since we have so many phases and each being different. That is why our guest house tour is two nights. Our projects spread over 3200 acres in 15 phases with both estate and community developments, gated and non gated. We also like to show you a variety of homes we have built and are building to give you a better idea how to work with our topography since we are by no means flat. We have a 5000 foot tall mountain as our backdrop only 5 miles inland from the beach in front of us. Most homes are in the foothills looking at the ocean with the mountain as our back drop. Learn more about the various ways of visiting our properties at http://www.pacificlots.com/visit/ and remember that "it is not what you did in life that you regret, it is usually what you didn't do. We will send you a copy of our free DVD if you are interested, you can find a link to sign up at http://null/www.pacificLots.com. If you have additional questions, let me know.
Steve Linder

Pacific Lots of Costa Rica
Steve@PacificLots.com
305-295-0137 Direct
877-481-0300 Toll Free