Strategy for Buying Real Estate in Costa Rica
When we'd settled on Costa Rica the destination we planned to retire to the first thing we did was set a strategy to find a piece of property that met our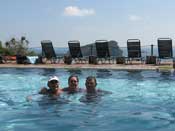 requirements in terms of size, location and budget. We were pretty savvy shoppers having bought and sold close to a dozen properties in the states so we thought we knew what we were doing. We first looked for foreclosed property in Costa Rica. We quickly realized there wasn't much in the way of foreclosed homes in Costa Rica since most homes have no mortgage, with most being purchased in the past for cash. The mortgage market in Costa Rica is still in it's infancy. Typically you can't get a mortgage on land, only developer financing. In this type of financing, the developer holds the note. Mortgages for finished homes or construction mortgages typically require large down payments in Costa Rica. Banks in Costa Rica want a minimum of 20% of the value of the mortgage as collateral. Fortunately you can typically pledge land you own as collateral for a construction loan which is what many owners in our developments end up doing.
Finding a realtor
You do not need to be licensed to sell real estate in Costa Rica. As a result, nearly everyone will pretend to be a realtor if they think they can participate in a sale and make a commission. There is also no national MLS system in Costa Rica. Listing and commission agreements are not standardized. Realtors are not acting as a "buyers" agent or a "sellers" agent. Most are simply hoping to make a commission. Without a standard system of commissions and referral fees, realtors are reluctant to share their listings with other realtors. That means that most realtors will only show you their own listings in Costa Rica
Finding a Project
Many real estate developers in Costa Rica are very new to the industry. What they soon learn is that development in Costa Rica is highly regulated. Getting permits to subdivide, build roads, install water lines or electric is a challenge. Costa Rica boasts staunch conservation. In recent years the government has created new hurdles to slow the growth by foreign development companies with projects aimed at North Americans and Europeans. Verify the experience of any developer you are considering. See what they have accomplished, not what they say they plan on doing. Visit their projects. Ask about fees, CC&As, and deed restrictions. Some developers require you build in a certain amount of time. Others require that you use their construction services even though they may have little or no experience. Also find out the type of development and titling they are doing. Are they selling agricultural parcels with limited use and value? Are they selling "Parcel Minima" parcels with very limited infrastructure and few requirements for the developer to bring electric, water or roads to the lots. Is the project gated? Gated projects often allow a developer to provide little in the way of infrastructure and services inside the gate. There are no municipal standards applied once inside the gate. Find out what services will be provided and when, before purchasing. Buy what you see, not what they tell you is coming. Be wary of brochures full of artist's renditions of what a development is going to look like. Paragon Properties is a prime example.
Determining Value - Appraisals
In the US, we are used to having an appraisal done on property as part of the purchase process. Appraisals are rare in Costa Rica since mortgages on properties are less frequent but are becoming more common. Most appraisals are ordered by the bank holding the mortgage. Don't expect to have an appraisal done or even find an appraiser in Costa Rica. Be your own judge. Educate yourself. Kristina and I took a complete set of courses offered by the Appraisal Institute costing thousands of dollars to learn how to do appraisals. Kristina worked for an appraiser to gain additional experience. Appraisals have three parts; comps which are comparisons to similar property in the vicinity with similar characteristics, income approach which is looking at the income that a property would provide from rentals or lease agreements and cost of construction which looks at the cost of the raw land and any improvement on it based on current construction costs. All appraisals in the states consist of all three methods unless specifically stated to the contrary.
Property Values Past and Present
A few years back nearly every project in Costa Rica was selling like hot cakes. Prices were spiraling up with no end in sight. In the central valley in places like Escazu and Santa Ana, condo prices were approaching $1200 per square meter and some were topping $2000. Builders of quality single family homes were in short supply and the waiting list for construction was growing. Most major hotel chains and a slew of developers pounced on Costa Rica to build condos knowing that 78 million baby boomers were already looking at options. Guanacaste and especially the area around the Liberia International Airport in Costa Rica boomed with high rise and low rise development. Areas like Jaco, once considered a lowly surfing town, sprouted up high rise projects overnight. Nine condo projects were started in Jaco at the same time by builders like Sonesta and Daystar. The "crane" become a common sight, and I am not talking about the bird. Even as far south as Manuel Antonio, high rise projects were breaking ground.
The Shake Out
Then came the slow down as the world economy contracted. Some projects have been abandoned while others have slowed way down. Prices have fallen in these types of projects and also in large developments of single family homes that were built out of speculation. Many of these builders must continue to sell some inventory to stave off bankruptcy. Banks once flush with money were now pulling back load commitments.
Many buyers were stuck with a project that was partially completed. Some developers went bankrupt leaving the owners fully responsible to compete infrastructure. The market lost value in many areas, especially those in Guanacaste and the central Pacific area around Jaco. The southern Pacific area faired the best. The three story height restriction (from Dominical south to Panama) has kept developers of high rise projects away. The limited accessibility kept large projects out of the region and inventory of finished homes remained low. Prices have fallen a bit on raw land without ocean views but ocean view parcels have continued to creep up in price.
Southern Options
There is a two tiered pricing system in Costa Rica, that of Tico style homes and North American style homes in expat communities. Most North Americans don't do well in Tico style homes or in a Tico neighborhood though some old hippies and such may do so. Housing aimed at Expats offers a variety of choices. High rise buildings with secure parking, upscale residential neighborhoods, large communities like Los Suenos golf residences (expensive) or small projects like the ones dotting the coast from Jaco to Quepos. Further south , these types of developments are harder to find.
Pacific Lots
Our Pacific Lots project is by far the largest and oldest but we are a single family residential development. Since we only built custom homes, we never had unsold inventory to glut the market. Our developments spread out in the hills overlooking the ocean above the village of Ojochal below us. The neighboring town of Uvita, just to our north, has become a large commercial center in the past few years. Most in our town prefer to have this commercial development nearby and not right in town. We build North American style homes, have no time limit and you are welcome to hire any other builder if you don't want to use us. See our website for details...